Episode notes
Jordan, a lifelong comic book fan, and his friend Charles were discussing the DC comics villain Mr. Mxyzptlk and made a wager: if Jordan's friends could trick him into saying his own name backwards, he'd owe them five dollars. Charles says the group succeeded using Jordan's middle name — but Jordan refuses to pay up, saying the middle name doesn't count. Who is right, and what's in a name, anyway?
STREAM OR DOWNLOAD THIS PODCAST
VIEW THE EVIDENCE
SUBSCRIBE TO THIS PODCAST in ITUNES or the RSS FEED
EVIDENCE
From Charles:
Exhibit A: One of the ways in which they planted the idea of saying Salgood was instituting it as a meme at their radio station – see attached photo of "Salgood" graffiti.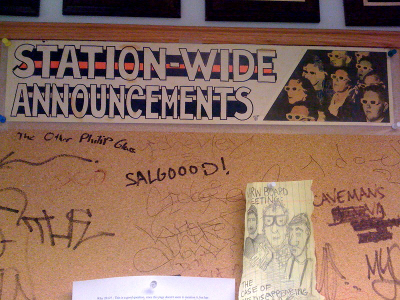 Exhibit B
: "The station ID recording we made with our friend Nick where Jordan's voice is reversed as he says his name."
About the show
Have your pressing issues decided by Famous Minor Television Personality John Hodgman, Certified Judge. If you'd like John Hodgman to solve your pressing issue, please contact us HERE.
Follow @judgejohnhodgman on Instagram to view evidence from the cases tried in court.
Get in touch with the show
How to listen
Stream or download episodes directly from our website, or listen via your favorite podcatcher!