Episode notes
Ted brings this case against his father Paul, who has become obsessed with cows. Ted argues that his father's cow collection and his inclination to randomly say the word cow, among other issues, indicate the need to tamp down the cow-talk. Paul argues that his obsession is merited, because "cows are our most important animal friends."
You may view the evidence after the jump, and as always, you may subscribe to the podcast in iTunes or through this RSS feed.
Evidence
Submitted by Paul: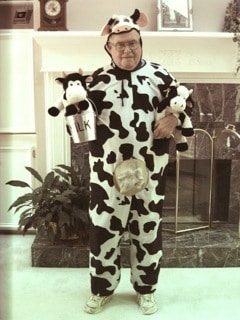 Exhibit A
"This is me in cow suit with Dexter and Gordon in full Halloween mode with the milk pail for distribution of milk chocolate."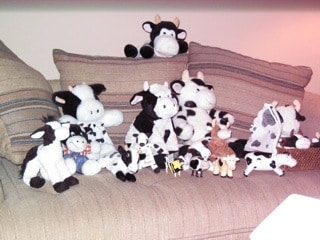 Exhibit B
"The one with the wings in the right foreground is the (battery powered) Holy Cow.
Each has its own name. Obviously, the list is long. All are gifts from friends and family. Ted is responsible for several.
I did not photograph the assorted cow paraphernalia around the house (assorted calendars, tee shirts, note paper, ornaments, cow mugs, moo mixer, and other stuff)."
About the show
Have your pressing issues decided by Famous Minor Television Personality John Hodgman, Certified Judge. If you'd like John Hodgman to solve your pressing issue, please contact us HERE.
Follow @judgejohnhodgman on Instagram to view evidence from the cases tried in court.
Get in touch with the show
How to listen
Stream or download episodes directly from our website, or listen via your favorite podcatcher!