Episode notes
It's Christmas in July!
Mark and Hal of Maximum Fun's own We Got This released an episode naming a popular Christmas movie as the definitive best Christmas movie. Mark regrets the choice and has tried several times to convince Hal to re-evaluate. While Mark seeks to get the decision reversed, Hal would like to prohibit Mark from bringing it up again. Who's right? Who's wrong?
EVIDENCE
SUBMITTED BY HAL
Text conversation between Mark (in gray) and Hal (in blue) after recording the Best Christmas Movie episode: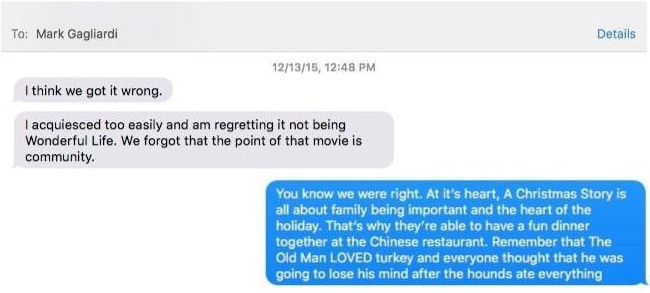 Text conversation between Mark's girlfriend, Juliana (in gray), and Hal (in blue), which Juliana initiated right after Mark texted Hal: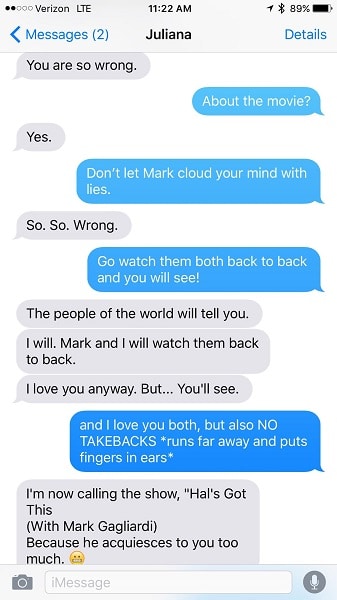 If you want to listen to the We Got This episodes referenced, they are Episode #43 "Best Christmas Movie," and Episode #52 "The One Year Anniversary Spectacular."
Thank you to Steve Marois for suggesting this week's title! To suggest a title for a future episode, like Judge John Hodgman on Facebook. We regularly put a call for submissions.
—
You can still buy tickets for the Judge John Hodgman: Live Justice tour! Check out the right side of this page or JohnHodgman.com/Tour for links and more information!
About the show
Have your pressing issues decided by Famous Minor Television Personality John Hodgman, Certified Judge. If you'd like John Hodgman to solve your pressing issue, please contact us HERE.
Follow @judgejohnhodgman on Instagram to view evidence from the cases tried in court.
Get in touch with the show
How to listen
Stream or download episodes directly from our website, or listen via your favorite podcatcher!