Episode notes
This week, Cara brings the case against her husband, Colin. Colin began setting an alarm to rise with the sun each day. He says it's not only useful, but that he enjoys feeling synced with the natural world.
Cara says the sunrise alarm is impractical and is just Colin's latest "New Thing".
Should Colin continue rising with the sun? Only one man can decide.
This week, guest starring Bailiff Jean Grae! For more Jean, check out her Bandcamp OR if you're in NYC, go see her this Friday, May 1st at Jean Grae's Mayday Melee at The Bell House in Brooklyn!
Lisa Harris named this week's case via the Judge John Hodgman Facebook page. Thanks, Lisa!
VIEW THE EVIDENCE FOR THIS CASE
SUBSCRIBE TO THIS PODCAST in ITUNES or the RSS FEED
EVIDENCE
FROM CARA
Exhibit A:
A chart showing the variances in sunrise between Taipei (where they currently live) and Boston (where the couple will move in the near future).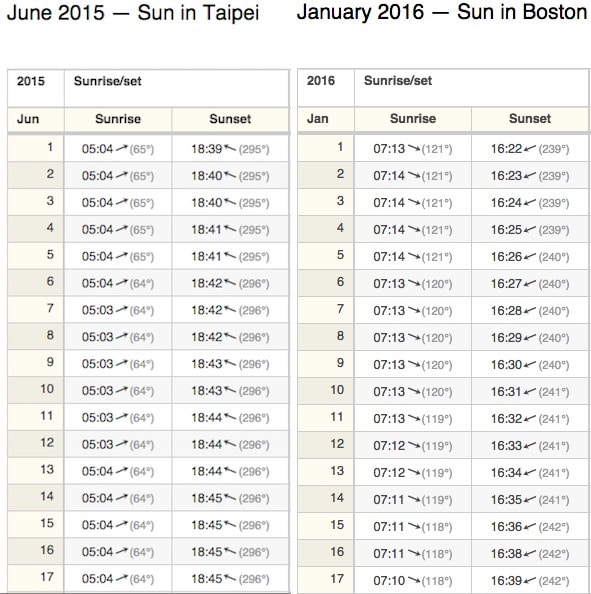 About the show
Have your pressing issues decided by Famous Minor Television Personality John Hodgman, Certified Judge. If you'd like John Hodgman to solve your pressing issue, please contact us HERE.
Follow @judgejohnhodgman on Instagram to view evidence from the cases tried in court.
How to listen
Stream or download episodes directly from our website, or listen via your favorite podcatcher!