Episode notes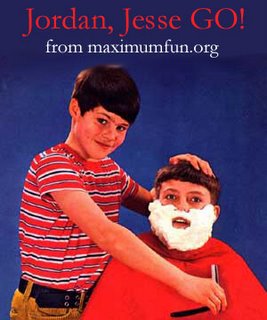 This week's Jordan, Jesse GO! is split into two portions for your enjoyment.
Introduction
Jesse, Jordan and comedian Mike Schmidt are in a subway car. Their lives have changed recently — Mike is no longer on the Never Not Funny podcast, Jordan went to Hawaii, Jesse got a dog and an El Camino.
Real Princesses
Discussion of My Little Pony.
Gym Stories
Mike tells us about the most horrible things that have happened at his gym.
Fights & Fighting
Mike tells us why he spent so much of his life getting in fights. Jesse talks about how he avoided them, except for the time he got punched in the face for no reason.
Outro
Discussion of a new face-off: Shia LaBouf vs. Boof Bonser
Jordan attended the Star Wars convention in LA, and has some thoughts. Jesse thinks there was a whole show he used to watch as a very small child about the Ewoks, but he can't remember.
Mike discusses what it's like to write for a home video clip show, including a discussion of the stuff you cannot say on the WGN Superstation.
ACTION ITEMS
* Shia LaBouf or Boof Bonser?

* Review the show on iTunes.
* Do you have a dispute Judge John Hodgman can solve on a future broadcast? Email it to us! Put Judge John in the subject line.
* Have personal questions for Jesse and Jordan? Call 206-984-4FUN and tell us what they are!
* Would you like to play Would You Rather with us on a future episode? Email us or give us a call at 206-984-4FUN.

Call 206-984-4FUN to share your thoughts on these ACTION ITEMS.
Download Episode 24
Download Episode 24A
Hear Episode 24 Now
Hear Episode 24A Now
Our theme music: "Love You" by The Free Design, courtesy of The Free Design and Light in the Attic Records
About the show
What is the dumbest show you can imagine? This award-winning show may be dumber. It has no content. No format. Yet it's going on thirteen years of delighting hundreds of thousands of people. It's been an iTunes editor's choice, and Rolling Stone picked it as one of the world's best comedy podcasts. It's light in the dark, comfort in the cold, and a penguin in the pants (long story).
Join hosts Jesse Thorn (NPR's Bullseye) and Jordan Morris (Comedy Central's @Midnight) and a celebrity guest on a raucous, vulgar, and warm-hearted romp that might just leave you a better person. And will certainly make you dumber.
Call in a Momentous Occasion at 206-984-4FUN or email jjgo@maximumfun.org.
Get in touch with the show
How to listen
Stream or download episodes directly from our website, or listen via your favorite podcatcher!