Episode notes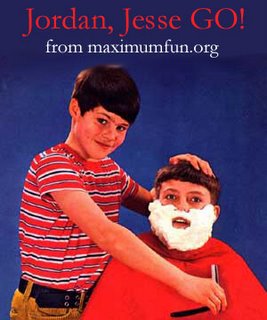 In this week's Jordan Jesse GO!, we discuss the misspent youths of others.
Introduction
Jesse and Jordan are in a casino in Atlantic City, joined by Stephen Brophy and Bucky Sinister. Stephen performs with The Bruce McCulloch Project and writes for the TBS "microseries" lovebites. Bucky is a poet and the author of All Blacked Out & Nowhere to Go

.
We announce the winners of the High Five Contest, a conversation which spins out of control.
Mis-spent Youth
Bucky talks about, among other topics, his friend
Razor
. Like Bucky, Razor is now clean & sober, but in their youth, Razor was a great guy to do drugs with on Christmas Day. Bucky and Jesse start talking about AA meetings, which might be a bit self-indulgent, but it's important, you know?
Barefoot
Why isn't Jordan wearing shoes?
Bruce Wayne
Bucky reads a poem from his book. It's about an alternate universe where Bruce Wayne is a mess and Bucky really has his shit together.
Cardboard Trucks
Listeners call in to discuss the vital topic of Cardboard Trucks.
Project Breakout
Our sponsor is
Project Breakout
, and they are currently accepting votes on funny videos.
Beer Koozies
Jordan discuss beer koozies. He's noticed people bringing them to bars. What's that all about?
Porn in the Woods
A round robin on advice for our 17-year-old listener Ashley turns into a discussion of finding porn in the woods and the sad ways rural children entertain themselves.
Outro
We pretty much just wrap stuff up.
ACTION ITEMS
* Enter our ATHF movie contest.
* Is it OK to take a beer koozie into a bar? What's that all about?
* What can we do to help Ashley?
* What would you like to ask Conressman Richard Martin (R-Ohio)?

* Review the show on iTunes.
* Do you have a dispute Judge John Hodgman can solve on a future broadcast? Email it to us! Put Judge John in the subject line.
* Have personal questions for Jesse and Jordan? Call 206-984-4FUN and tell us what they are!
* Would you like to play Would You Rather with us on a future episode? Email us or give us a call at 206-984-4FUN.

Call 206-984-4FUN to share your thoughts on these ACTION ITEMS.
Hear Episode Eighteen
Our theme music: "Love You" by The Free Design, courtesy of The Free Design and Light in the Attic Records
The Sound of Young America and Jordan Jesse GO! are supported in part by Project Breakout!
About the show
What is the dumbest show you can imagine? This award-winning show may be dumber. It has no content. No format. Yet it's going on thirteen years of delighting hundreds of thousands of people. It's been an iTunes editor's choice, and Rolling Stone picked it as one of the world's best comedy podcasts. It's light in the dark, comfort in the cold, and a penguin in the pants (long story).
Join hosts Jesse Thorn (NPR's Bullseye) and Jordan Morris (Comedy Central's @Midnight) and a celebrity guest on a raucous, vulgar, and warm-hearted romp that might just leave you a better person. And will certainly make you dumber.
Call in a Momentous Occasion at 206-984-4FUN or email jjgo@maximumfun.org.
Get in touch with the show
How to listen
Stream or download episodes directly from our website, or listen via your favorite podcatcher!