Episode notes
Zar-who-what-now? We finally get around to one of our contest winner episodes, this one picked by Elizabeth Stege, who designed our delightful new Flop House Housecat t-shirt, which you can purchase HERE! It's a Full Moon Features (awww yeah, Stu) kaiju movie with about 5 minutes of giant monster action in the whole film. But what it lacks in reason to exist, it makes up for in… charm? We guess? Meanwhile, Stuart explains the advantages to playing with dead things, Elliott explains how time zones work, and Dan introduces an exciting new wrinkle to the show.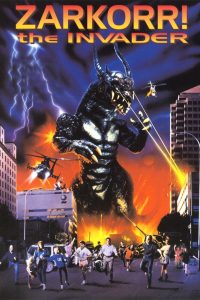 Wikipedia synopsis of Zarkorr: The Invader!
Movies recommended in this episode:
LIVE SHOW ALERT! – The Flop House in Toronto – April 18!
About the show
The Flop House is a bimonthly audio podcast devoted to the worst in recent film. Your hosts (Elliott Kalan, Dan McCoy, and Stuart Wellington) watch a questionable film just before each episode, and then engage in an unscripted, slightly inebriated discussion, focusing on the movie's shortcomings and occasional delights.
Follow @flophousepod on Twitter and @theflophousepodcast on Instagram. Email them at theflophousepodcast@gmail.com.
Get in touch with the show
How to listen
Stream or download episodes directly from our website, or listen via your favorite podcatcher!
Liked 304: Zarkorr! The Invader? Listen to these next...