Episode notes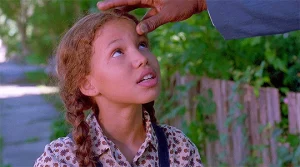 Mariama Diallo's new debut feature film, MASTER, may be a horror movie, but just like Kasi Lemmons' first feature, EVE'S BAYOU, it tackles themes of ritual and the supernatural. Mariama was about the same age as Eve (Jurnee Smollett) when she first saw the film. She and Jordan discuss both films, and the ways in which the promise of progress in '90s entertainment have been slow to materialize.
Then, Jordan's got some really important stuff to say about feeling seen by another title character: The Batman. 
What Should Be Learned From the End of UPN and the Golden Era of Black Television (The Mary Sue)
20 Years Later, Eve's Bayou Is Still a Stunning Portrait of Black American Life (Angelica Jade Bastién for Vulture)
***
Follow us on Twitter, Instagram, and Facebook
With Jordan Crucchiola and Mariama Diallo
About the show
On Feeling Seen, writer and general enthusiast Jordan Crucchiola invites filmmakers, writers, comedians, and artists to discuss the movie characters that made them "feel seen." It's about that instant when a person connects to a piece of art so deeply that they see themselves reflected in it. Every week Jordan gabs it up with a guest about those magical moments when they were watching a film and realized, "That's me!" It's an informative, funny, and comforting show about our intimate relationship with movies, the impact they have on our lives, and how they influence our art.
Get in touch with the show
Liked Mariama Diallo on 'Eve's Bayou'? Listen to these next...