Episode notes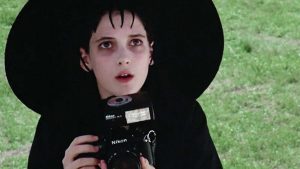 It's showtime! This week's co-host is Chelsea Stardust, director of the horror comedy Satanic Panic, along with All That We Destroy, which was part of Blumhouse's Into the Dark series on Hulu. The character that made her feel seen? Fellow goth only-child Lydia Deetz of Beetlejuice, of course.
Long before she was a rising star in horror cinema, Chelsea was a Midwestern kid with a love for the strange and unusual. The first time she saw Beetlejuice, she recognized herself in young Lydia Deetz, from her dark sensibilities to her love of photography. In This week, Chelsea tells Jordan what she learned by embracing her inner Lydia.
Plus (speaking of Showtime): How is Jordan feeling now that Season One of Yellowjackets is in the books? Satisfied? Bereft? Reeling? Well stay tuned and she'll tell you!
Follow us on Twitter, Instagram, and Facebook
With Jordan Crucchiola and Chelsea Stardust
About the show
On Feeling Seen, writer and general enthusiast Jordan Crucchiola invites filmmakers, writers, comedians, and artists to discuss the movie characters that made them "feel seen." It's about that instant when a person connects to a piece of art so deeply that they see themselves reflected in it. Every week Jordan gabs it up with a guest about those magical moments when they were watching a film and realized, "That's me!" It's an informative, funny, and comforting show about our intimate relationship with movies, the impact they have on our lives, and how they influence our art.
Get in touch with the show
Liked Director Chelsea Stardust on 'Beetlejuice'? Listen to these next...