Episode notes
This week, we're talking all things RuPaul.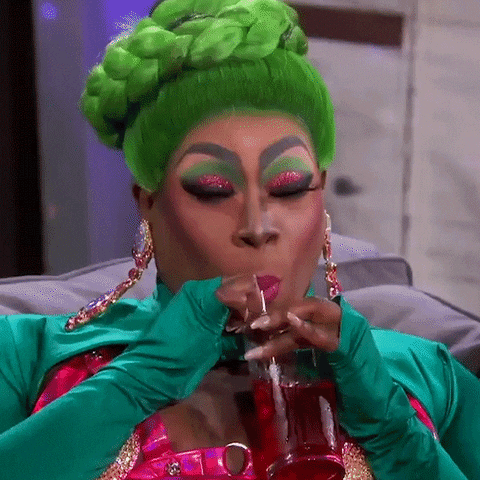 That's right. We're keeping the same energy for all of the icons. There's no denying the impact that RuPaul Andre Charles has had on the world of drag. He's carried drag into the mainstream in six-inch stilettos and challenged the status quo with every step. We Stan a living legend.
In this episode we'll seek to separate Mama Ru the icon from RuPaul Andre Charles the shrewd businessman whose choices on and off his hit VH1 show can be at times questionable. Is RuPaul transphobic? Is RuPaul a fracker?
We'll get into all of that and more on an all-new episode of FANTI!
DIS/Honorable Mentions
Jarrett starts things off with a dishonorable mention to allergy season with its rude ass.
Also, a DIS/Honorable mention to contestant Sarah Jett Rayburn on "Jeopardy!" after she failed to correctly respond to a clue about early 1800s warrior leader Shaka Zulu instead opting to answer like this:
And lastly, Jarrett would like to give an honorable mention to everyone out there who is having a difficult time during COVID-19. Whether you are sheltering at home or an essential worker, you are not alone and there are resources out there if you need assistance.
This week, Tre'vell side-eyes ESPN with a dishonorable mention for their tone-deaf infographic for NFL Draft pick Tee Higgins. Put some respek on Mom, Camilla's name. We're also dishonorably mentioning the current controversy surrounding Land o' Lakes butter. 
An honorable mention goes out to content creators with a shout-out to YouTubers Terrell Grice and Zachary Campbell for helping us momentarily escape…all this.
Go ahead and @ us
Email: FANTI@maximumfun.org
@rayzon (Tre'Vell)
@Swish (Producer Laura Swisher)
FANTI is produced and distributed by MaximumFun.org
Laura Swisher is the senior producer.
About the show
Sometimes the people, places, and things we love don't love us back. We're fans, but we also have some ANTI- feelings toward them. Every week on FANTI, journalists Tre'vell Anderson and jarrett hill bring their pop culture and political expertise to things we must stan and stand up against. FANTI is a place where nuance reigns supreme with energetic, complicated, and sometimes difficult conversations that bring deep knowledge and thoughtful perspective to the things we love and rage about, from the White House to the Real House(wives).
Get in touch with the show
How to listen
Stream or download episodes directly from our website, or listen via your favorite podcatcher!
Liked RuPaul vs. RuPaul Andre Charles? Listen to these next...