Episode notes
HAPPY MAX FUN DRIVE! If you don't know, Max Fun Drive is the best time of the year to become a member of Maximum Fun! It's the best way to support the shows that you love and there are some AWESOME gifts for members this year! Head to maximumfun.org/join today! We also have some really fun bonus content planned if we reach our goals this year! Tune in to hear all about them! This week, Persephone has upped the game for all cats in terms of rude places to pee and Crumb's getting carried up the stairs! Plus, Ella tells us ALL about PANDAS and we have a great Ready, Pet, Go from Altaay! Animal trivia really is our love language and this episode does not disappoint!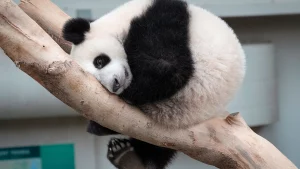 About the show
Comfort Creatures is a show for people who prefer their friends to have paws instead of hands! Every week, Alexis and Ella talk to guests about their pets or creatures that give them comfort, discuss their favorite fictional critters, learn about pets in history, and discover differences between pet ownership across the pond. Whether you have a giant sloth, two siamese skinks, or just know way too much about unicorns, every animal friend is welcome on Comfort Creatures!
Get in touch with the show
How to listen
Stream or download episodes directly from our website, or listen via your favorite podcatcher!
Liked Pandas, Frying Pans, and MaxFun Drive!? Listen to these next...