Episode notes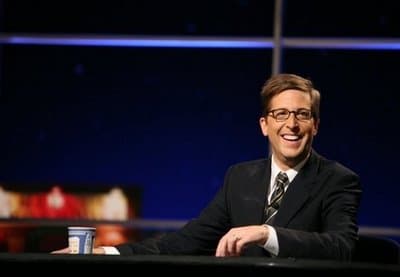 Spike Feresten wrote for most of the funniest television series of the 1990s, including Seinfeld, The Late Show with David Letterman, Saturday Night Live, and even an episode of The Simpsons. Even some of his failures — like The Dana Carvey Show — were beloved. Among his credits are the classic "Seinfeld" episode "The Soup Nazi."
Three years ago, he stepped in front of the camera as the host of Fox's late night series Talkshow with Spike Feresten. It's a comedy-heavy Saturday night talk show that has featured guests ranging from Tim & Eric to Tom Hanks. The show just got extended from half an hour to an hour, airing in the slot that once belonged to Mad TV.
Listen to This Week's Show Online

Please allow our low-bandwidth server a little time after you click "play"
Download This Show

Embeddable Audio Player Code (Copy and Paste)

Discuss this episode on the forum!
Subscribe in iTunes
Please Donate to Support the Show

If you enjoyed this show, try these:
Rob Corddry
The Writers of The Late Show
Janeane Garofalo

About the show
Bullseye is a celebration of the best of arts and culture in public radio form. Host Jesse Thorn sifts the wheat from the chaff to bring you in-depth interviews with the most revered and revolutionary minds in our culture.
Bullseye has been featured in Time, The New York Times, GQ and McSweeney's, which called it "the kind of show people listen to in a more perfect world." Since April 2013, the show has been distributed by NPR.
If you would like to pitch a guest for Bullseye, please CLICK HERE. You can also follow Bullseye on Twitter, YouTube, and Facebook. For more about Bullseye and to see a list of stations that carry it, please click here.
How to listen
Stream or download episodes directly from our website, or listen via your favorite podcatcher!