Episode notes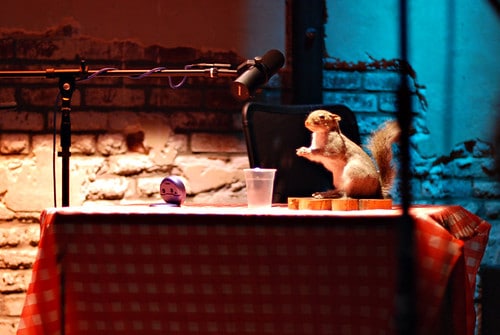 Earlier this month, we recorded this LIVE Sound of Young America program at the Westside Eclectic Theater in Santa Monica. Above, you can see Nutsy preparing for the show.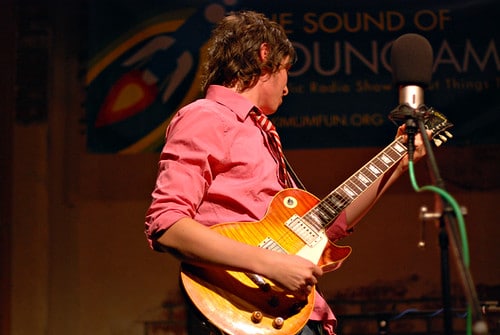 The one and only Dan Grayson rocked out theme song live, a rare and distinct pleasure.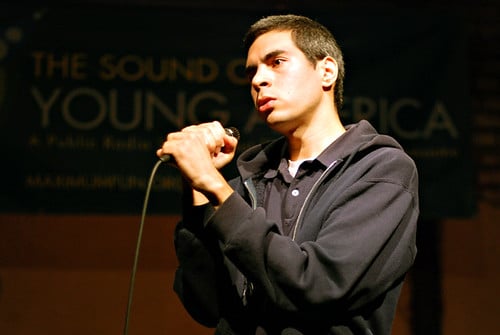 The great Brent Weinbach, fresh of a performance with the Comedians of Comedy at the Coachella Music & Arts Festival, led off the show, offering the audience a taste of his unique comic style. You can hear much of his performance in the show, but I had to cut some for time reasons. For example, here's Brent leading the audience in an orchestral performance that has to be heard to be believed: MP3.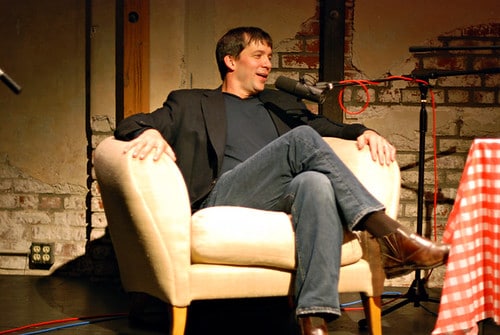 Then I had the pleasure of interviewing Rob Thomas. He's the creator of Veronica Mars, the wonderful (and dearly departed) teen detective television show for people who would never watch a teen detective television show. He also created the cult hit series "Cupid," and edited a book of essays about Veronica Mars called "Neptune Noir

."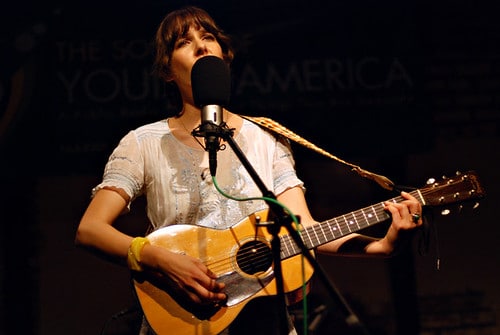 The wonderful Eleni Mandell closed the show with three songs — alternately haunting, sweet and charming. If you'd like to listen to the performances independent of the show, here are MP3 links (right click and choose "Save As"): Girls (MP3), My Twin (MP3), Make Out King (MP3). All three songs are taken from Eleni's newest LP, "The Miracle of 5," and you should really buy it on Amazon

or from iTunes.
All photographs by Lee Meredith – see more here. Special thanks this week to The Onion, America's Finest News Source, and to He'Brew, The Chosen Beer for providing us with free refreshments.

Please share your thoughts on this program on our forum!
Download This Show (MP3)
Subscribe in iTunes
Review the show in iTunes
Please Donate to Support the Show
Listen to This Week's Show Online

powered by ODEO
Please allow our low-bandwidth server a little time after you click "play"
Embeddable Player Code (Copy and Paste)
Our intersititial music is provided by Dan Wally
You might also enjoy these past programs:
Live in NYC with David Wain, et al
Live in NYC two with Kurt Andersen, et al
Laugh Riot with Brent Weinbach
The Sound of Young America is supported in part by Project Breakout and the comedy competition at comedy.projectbreakout.com.
About the show
Bullseye is a celebration of the best of arts and culture in public radio form. Host Jesse Thorn sifts the wheat from the chaff to bring you in-depth interviews with the most revered and revolutionary minds in our culture.
Bullseye has been featured in Time, The New York Times, GQ and McSweeney's, which called it "the kind of show people listen to in a more perfect world." Since April 2013, the show has been distributed by NPR.
If you would like to pitch a guest for Bullseye, please CLICK HERE. You can also follow Bullseye on Twitter, YouTube, and Facebook. For more about Bullseye and to see a list of stations that carry it, please click here.
Get in touch with the show
How to listen
Stream or download episodes directly from our website, or listen via your favorite podcatcher!