Episode notes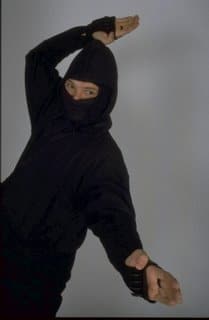 We continue our journey into The Sound of Young America's vast audio archive with this program from The Sound of Young America Classics.
This week's show Odd Ends, as the name suggests, has a varied mix of entertaining guests and features some of the weirdest things that have ever been on TSOYA. Kasper Hauser, the San Francisco comedy sketch group talk about scamming internet scammers and things go drastically awry when interviewing a scout for Steve Harvey's Big Time. We get some 'ninja insight' from Robert Hamburger and Charlie Todd, founder of Improv Everywhere talks about their pranks on the streets of New York.
In this archive episode of TSOYA check out some hilarious tips from the Kasper Hauser guys on how to scam people on the internet (in a nice way) and they also give a run-down of their alternative craigslist. Worth a listen!
Jesse also talks to Mr. Robert Hamburger, self-proclaimed ninja master. Check out his website www.realultimatepower.net for some insightful ninja 'facts'.
Since its inception in August 2001 Improv Everywhere has completed over 70 missions involving thousands of undercover agents. Based in New York City, creator Charlie Todd tells TSOYA about some of their most successful and notorious pranks.
Please share your thoughts on the show in the comments section!
Download This Week's Show
Subscribe to TSOYA Classic in iTunes
Please Donate to Support the Show
About the show
Bullseye is a celebration of the best of arts and culture in public radio form. Host Jesse Thorn sifts the wheat from the chaff to bring you in-depth interviews with the most revered and revolutionary minds in our culture.
Bullseye has been featured in Time, The New York Times, GQ and McSweeney's, which called it "the kind of show people listen to in a more perfect world." Since April 2013, the show has been distributed by NPR.
If you would like to pitch a guest for Bullseye, please CLICK HERE. You can also follow Bullseye on Twitter, YouTube, and Facebook. For more about Bullseye and to see a list of stations that carry it, please click here.
Get in touch with the show
How to listen
Stream or download episodes directly from our website, or listen via your favorite podcatcher!