Episode notes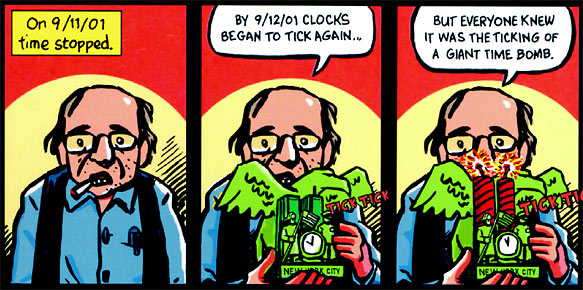 We continue our journey into The Sound of Young America's vast audio archive with this program from The Sound of Young America Clasics.
This week, Pulitzer-prize-winning comix artist Art Spiegelman (above) talks about his book "In the Shadow Of No Towers," a collection of large-format newspaper comics about September 11th and its fallout.
Then we talk with Chris Elliott, long-time foil to David Letterman, co-creator and star of the cult sitcom Get A Life, and now comic novelist. His first novel was "The Shroud of the Thwacker."
Finally, we talk with Matt Walsh. In addition to appearing in many movies, Walsh is a founding member of the Upright Citizens Brigade. He also starred in the semi-improvised semi-reality sitcom Dog Bites Man.


Please share your thoughts on the show in the comments section!
Download This Week's Show
Subscribe to TSOYA Classic: iTunes / Feed
Please Donate to Support the Show
About the show
Bullseye is a celebration of the best of arts and culture in public radio form. Host Jesse Thorn sifts the wheat from the chaff to bring you in-depth interviews with the most revered and revolutionary minds in our culture.
Bullseye has been featured in Time, The New York Times, GQ and McSweeney's, which called it "the kind of show people listen to in a more perfect world." Since April 2013, the show has been distributed by NPR.
If you would like to pitch a guest for Bullseye, please CLICK HERE. You can also follow Bullseye on Twitter, YouTube, and Facebook. For more about Bullseye and to see a list of stations that carry it, please click here.
Get in touch with the show
How to listen
Stream or download episodes directly from our website, or listen via your favorite podcatcher!