Episode notes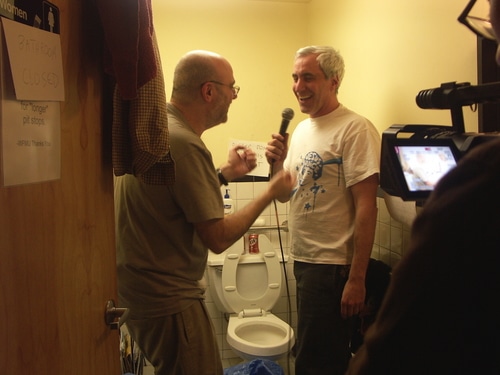 Ken Freedman and Andy Breckman are the hosts of Seven Second Delay on WFMU, the legendary freeform radio station in Jersey City, New Jersey. For the past fifteen years, they've picked a "radio stunt" each week, then tried to execute it in just one hour of live airtime. They've chain-translated a Village Voice S&M personal add through 15 languages, then back into English, written the ultimate New York Times "Metropolitan Diary" column entry, then gotten it published, and failed more times than they can count.
When they're not on-air, Freedman serves as the station's manager. Breckman is a noted comedy writer, having written for David Letterman and Saturday Night Live (he penned the classic "White Like Me" sketch), and he is creator and showrunner of USA network's Monk.
The folks behind the Seven Second Delay blog have put together this guide to the show for listeners of TSOYA, including links to the various programs referenced during our interview. Thanks!
Discuss this episode on the forum!
Download This Show (MP3)
Subscribe in iTunes
Review the show in iTunes
Please Donate to Support the Show
Listen to This Week's Show Online
Please allow our low-bandwidth server a little time after you click "play"
Embeddable Audio Player Code (Copy and Paste)

If you enjoyed this show, try these ones:
Tom Scharpling and Jon Wurster
Ira Glass
Paul F. Tompkins
About the show
Bullseye is a celebration of the best of arts and culture in public radio form. Host Jesse Thorn sifts the wheat from the chaff to bring you in-depth interviews with the most revered and revolutionary minds in our culture.
Bullseye has been featured in Time, The New York Times, GQ and McSweeney's, which called it "the kind of show people listen to in a more perfect world." Since April 2013, the show has been distributed by NPR.
If you would like to pitch a guest for Bullseye, please CLICK HERE. You can also follow Bullseye on Twitter, YouTube, and Facebook. For more about Bullseye and to see a list of stations that carry it, please click here.
Get in touch with the show
How to listen
Stream or download episodes directly from our website, or listen via your favorite podcatcher!