Episode notes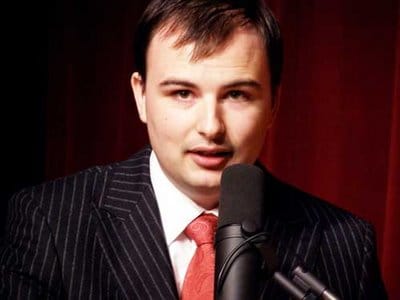 Last month, The Sound of Young America recorded two broadcasts live at the PIT in New York City. This is the first of those programs.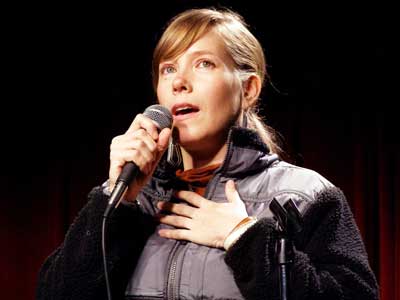 Heather Lawless kicked things off with some of her unique and hilarious standup. She talked about what she does and doesn't like about herself and others and related issues. How exciting to see someone who's really doing something new, and is so f'ing great at it.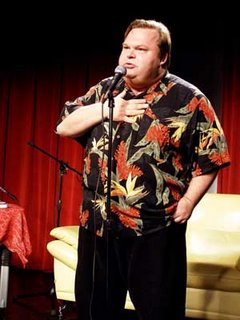 Then Mike Daisey blew everyone away with his sometimes terrifying, sometimes hilarious monologue about what children do in winter when they live in the snow-bound state of Maine.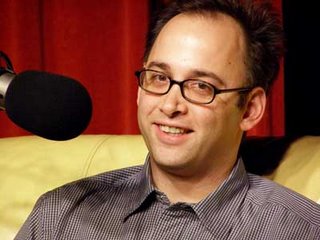 Then I talked with David Wain, who complained bitterly about the lights in his eyes (they were a bit bright). Later, we chatted about making his new movie The Ten, which premiers at Sundance January 19th and features Movie Stars like Jessica Alba and Winona Ryder, as well as Comedy Stars like every single member of The State.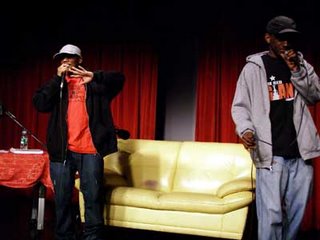 The hip-hop group Tanya Morgan (Donwill, left and Von Pea, right) rocked the public-radio-comedy-nerd crowd to an astonishing extent. Admittedly, though, when they were having people make fists, I was the only one doing it at first.
Tanya Morgan graciously allowed us to offer their two songs as free downloads:
Tanya Morgan – Stay Tuned
Tanya Morgan – We Be
Please share your thoughts on the show in the comments section!
Download This Week's Show
Subscribe in iTunes
Review the show in iTunes
Please Donate to Support the Show
All photos by Anya Garrett of SketchArtists.net
Special thanks to The Onion for promotional support
About the show
Bullseye is a celebration of the best of arts and culture in public radio form. Host Jesse Thorn sifts the wheat from the chaff to bring you in-depth interviews with the most revered and revolutionary minds in our culture.
Bullseye has been featured in Time, The New York Times, GQ and McSweeney's, which called it "the kind of show people listen to in a more perfect world." Since April 2013, the show has been distributed by NPR.
If you would like to pitch a guest for Bullseye, please CLICK HERE. You can also follow Bullseye on Twitter, YouTube, and Facebook. For more about Bullseye and to see a list of stations that carry it, please click here.
Get in touch with the show
How to listen
Stream or download episodes directly from our website, or listen via your favorite podcatcher!