Episode notes
This week's Sound of Young America broadcast looks at a few of our favorite goofs with the theme "Goofaround Gang."
We first hear from comedian Will Franken. Will performs a unique form of solo theater comedy — essentially performing comedy sketches by himself. He's been voted the best comedian in San Francisco by the SF Weekly, and the "Best Alternative to Pyschadelic Drugs" by the SF Bay Guardian. Will talks about his future, and performs a sketch. Be sure to check below for a "too hot for the radio" sketch from Will.
Our second guest is comedian Paul F. Tompkins. These days, Paul is best known as a VH1 "Fundit," but he's also been a regular on TV series including "Mr. Show," "The Daily Show," and "Real Time with Bill Maher." We talk with Paul about his career in funditry, and about his sideline hosting a cult-favorite stage variety show in Los Angeles.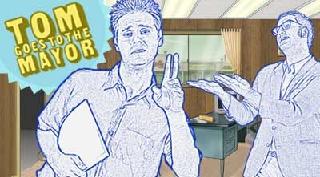 Our final guests are Tim & Eric, the creators of the Cartoon Network [adult swim] series "Tom Goes to the Mayor." The series is a silly and incisive look at the tiny banalities of American life. They also provide a live demonstration of a favorite musical instrument.
Listen Online
Download Will Franken's "Wet, Drippy P***ies"
Listen to Will Franken's "Wet, Drippy P***ies" Online
Bonus… here's the "Department of Special Projects" short T&E talk about on the show:
Incidental Music by DJW
Subscribe in iTunes
Donate to the Show
About the show
Bullseye is a celebration of the best of arts and culture in public radio form. Host Jesse Thorn sifts the wheat from the chaff to bring you in-depth interviews with the most revered and revolutionary minds in our culture.
Bullseye has been featured in Time, The New York Times, GQ and McSweeney's, which called it "the kind of show people listen to in a more perfect world." Since April 2013, the show has been distributed by NPR.
If you would like to pitch a guest for Bullseye, please CLICK HERE. You can also follow Bullseye on Twitter, YouTube, and Facebook. For more about Bullseye and to see a list of stations that carry it, please click here.
Get in touch with the show
How to listen
Stream or download episodes directly from our website, or listen via your favorite podcatcher!