Episode notes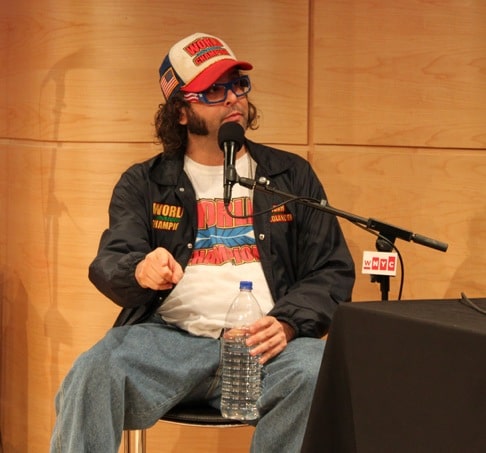 Photo credit WNYC and Casey De Pont.
Judah Friedlander is a regular on NBC's 30 Rock and the author of How To Beat Up Anybody. He is the World Champion.
Judah joined us on our live show at WNYC to discuss the differences between a Yeti, a Sasquatch and a Bigfoot (and how to beat up all three). He also delineated his strategies for fighting groups of people and even groups of strippers.
When Friedlander's not beating people up, he plays writer Frank Rossitano on 30 Rock. He's had a long and successful career on stage as a standup comic, and his film roles include an acclaimed turn as the Original Nerd, Toby in "American Splendor."
About the show
Bullseye is a celebration of the best of arts and culture in public radio form. Host Jesse Thorn sifts the wheat from the chaff to bring you in-depth interviews with the most revered and revolutionary minds in our culture.
Bullseye has been featured in Time, The New York Times, GQ and McSweeney's, which called it "the kind of show people listen to in a more perfect world." Since April 2013, the show has been distributed by NPR.
If you would like to pitch a guest for Bullseye, please CLICK HERE. You can also follow Bullseye on Twitter, YouTube, and Facebook. For more about Bullseye and to see a list of stations that carry it, please click here.
Get in touch with the show
How to listen
Stream or download episodes directly from our website, or listen via your favorite podcatcher!