Episode notes
New to Bullseye? Subscribe to our podcast in iTunes or with your favorite podcatcher to make sure you automatically get the newest episode every week.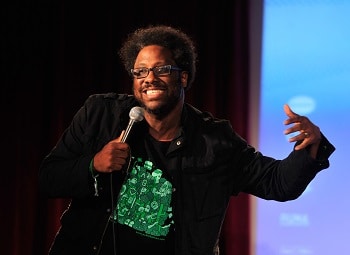 Photo: Stephen Lovekin / Getty Images
W. Kamau Bell on his television show "United Shades of America"
W. Kamau Bell is a stand-up comic with a handful of albums and specials to his name. He's hosted not one but two TV shows.
In 2012, he landed a television show: "Totally Biased with W. Kamau Bell." "Totally Biased" was kind of a hybrid between a political satire show and a talk show. And although he was the show's star, Kamau preferred to put the spotlight on his guests and just ask the questions–funny and serious both.
His latest show is the Emmy award-winning "United Shades of America" on CNN. It's up for another Emmy this year in the "unstructured reality programming" category. "United Shades" is basically a show about nuance, and about asking tough questions. "United Shades of America" is available to stream right now on Hulu.
This week, Kamau discusses his relationship with the South, his childhood, why he loves the television show "Doc McStuffins," and what it was like to be the son of Walter Bell, who served as Alabama's Insurance Commissioner. Plus, why he's really proud of his latest show "United Shades of America."
Listen to this interview on YouTube!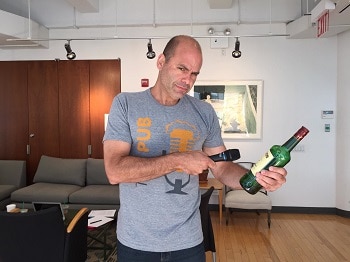 Photo: Andreasilenzi via Wikimedia Commons
Mike Pesca on his new book "Upon Further Review"
What if baseball teams only played once a week? What if Title IX never was? Or if basketball rims were smaller than basketballs?
Those are a few of the excellent questions posed in the book compiled by Mike Pesca: "Upon Further Review: The Greatest What-Ifs in Sports History." It's a collection of essays from over 30 different writers – people like Robert Siegel, Nate DiMeo, Jesse Eisenberg and more all asking – then answering, thoughtfully – hypothetical questions about sports that range from the trivial to the existential.
Mike Pesca was a sports reporter here at NPR for a time and still contributes every now and then. He also hosts "The Gist," a daily podcast over at Slate, where he covers the news of the day. But most importantly: Mike Pesca loves a good hypothetical, and to argue about it – exploring every possible outcome.
Mike Pesca will talk about his new book, what it was like working for NPR as one of two sports reporters, how he keeps up with the news for his daily podcast, and how his Long Island accent impacted his work in radio. Plus, what it was like to guest host "Wait Wait … Don't Tell Me" and the outcry he faced when he interviewed Kim Kardashian West when he hosted.
Listen to this interview on YouTube!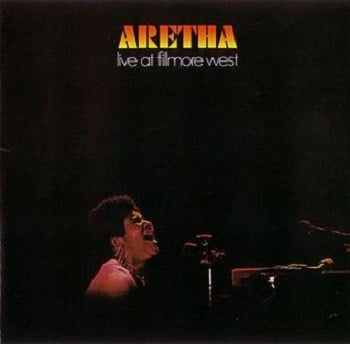 The Outshot: Remembering Aretha Franklin
For this week's Outshot Jesse breaks down "Aretha Live at the Fillmore West." This was the second live album by Aretha Franklin recorded in the spring of 1971 in San Francisco.
About the show
Bullseye is a celebration of the best of arts and culture in public radio form. Host Jesse Thorn sifts the wheat from the chaff to bring you in-depth interviews with the most revered and revolutionary minds in our culture.
Bullseye has been featured in Time, The New York Times, GQ and McSweeney's, which called it "the kind of show people listen to in a more perfect world." Since April 2013, the show has been distributed by NPR.
If you would like to pitch a guest for Bullseye, please CLICK HERE. You can also follow Bullseye on Twitter, YouTube, and Facebook. For more about Bullseye and to see a list of stations that carry it, please click here.
Get in touch with the show
How to listen
Stream or download episodes directly from our website, or listen via your favorite podcatcher!