Episode notes
New to Bullseye? Subscribe to our podcast in iTunes or with your favorite podcatcher to make sure you automatically get the newest episode every week.
And if you're looking for a particular segment to listen to or share, check us out on Soundcloud.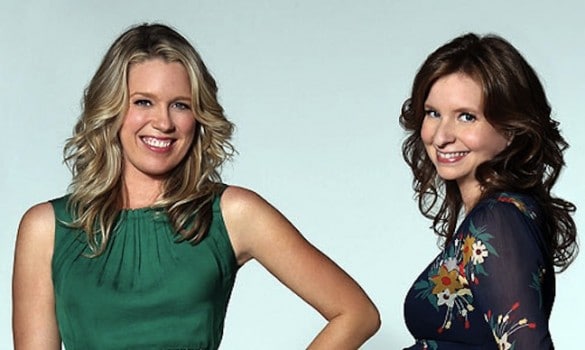 Jessica St. Clair and Lennon Parham of Playing House: Improv in the Writers' Room, Showing Real Friendships on TV, and 'Girl Porn'
Jessica St. Clair and Lennon Parham play best friends on TV, and if their on-screen chemistry seems real, it is. They met doing improv comedy at the Upright Citizens Brigade Theatre, and have been writing partners ever since. They co-created and star in Playing House, a new comedy about female friendship that's more reminiscent of Lucy and Ethel than it is Carrie Bradshaw's gang.
Playing House follows Emma and Maggie, two women who have been friends forever. Maggie stayed in their hometown, got married, and is expecting a baby. Emma has been professionally ambitious, closing business deals in Shanghai, and hasn't been back to visit for what must be years.
Parham and St. Clair join us to talk about the marathon improv sessions that produce the show's jokes, the designer home "girl porn" that provides contrast to their characters' weirdness, and their real-life friendship.
Playing House airs on the USA network Tuesday nights at 10/9c.
Bonus audio: Parham and St. Clair talk about their beginnings at the UCB.
If you liked this, let someone know! Click here to share this segment.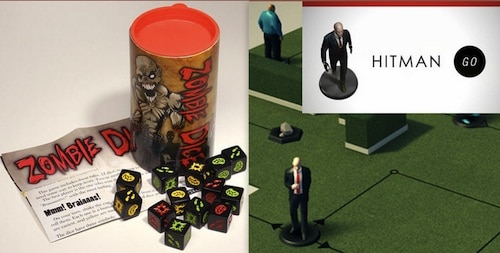 Boing Boing's Mark Frauenfelder Recommends: Zombie Dice and Hitman Go
Whether you're looking to zombie-fy yourself, or get absorbed into the world of a contract killer, Boing Boing's Mark Frauenfelder's got just the game for you. He's the host of the Gweek podcast, and he drops by to suggest a couple of his favorite new games. He recommends checking out the multi-player Zombie Dice to collect brains and avoid shotgun blasts to the head. If you prefer a game you can play solo, he suggests the strategy-based (and bloodless) game for iOS, Hitman Go.
If you liked this, let someone know! Click here to share this segment.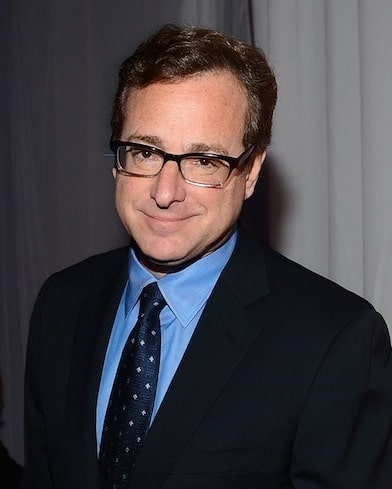 Mark Davis/Getty Images Entertainment/Getty Images
The Part: Bob Saget on 'Full House'
When Bob Saget was in his twenties, he had a lot of plates spinning. He tried film school (and dropped out after just a few days). He performed stand up. He warmed up sitcom audiences. He appeared in a Richard Pryor movie. He even worked for a few months as a morning talk show host, before he was told he was "too hot for TV."
But the part that changed everything wasn't controversial, or crazy. It was playing the straight man, on a sitcom aimed at families.
And despite the schmaltzy moments and broad jokes aimed at kids, Saget is proud of his role as widower and family man Danny Tanner on Full House. He'll tell us why.
Saget's new memoir is Dirty Daddy: The Chronicles of a Family Man Turned Filthy Comedian. It's very personal and sweet and also sometimes vulgar, which is pretty much exactly what you might expect. He's also touring his new stand up show. You can find details on his website.
If you liked this, let someone know! Click here to share this segment.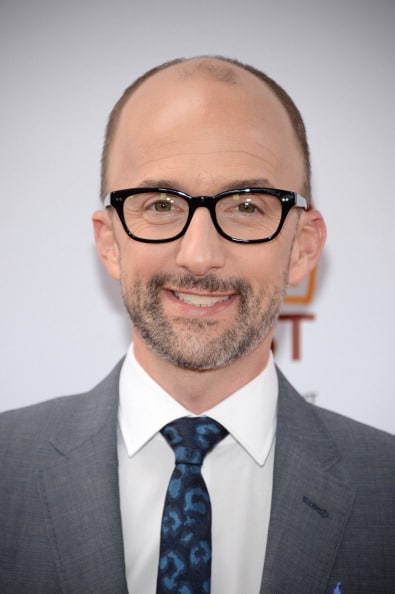 Robyn Beck/AFP/Getty Images
Jim Rash on Being "TV Ugly", Awkward Dad Talks, and Writing with Nat Faxon
Jim Rash has a lot of irons in the fire. He's a regular on NBC's Community and hosts the Sundance Channel series The Writers' Room. When Rash isn't on-screen, he's writing and directing. With his writing partner Nat Faxon, he wrote the Oscar-winning screenplay for The Descendants. The pair also wrote and directed last year's coming-of-age comedy The Way, Way Back, which drew on some of Rash's childhood experiences.
Rash joins us this week to talk about the awkward-yet-motivational summer talks he had with his dad and stepdad as a teenager, exploring writing techniques with TV showrunners on The Writers' Room, and writing for Community during Dan Harmon's absence.
Community airs Thursday nights at 8/7c on NBC.
The Writers' Room airs Friday nights at 9/8c on on the Sundance Channel.
If you liked this, let someone know! Click here to share this segment.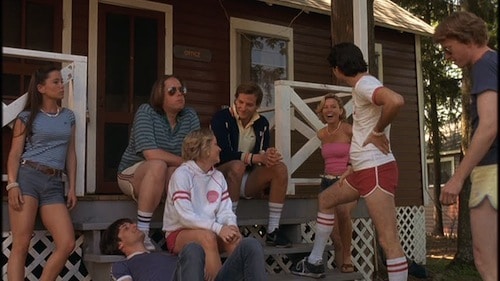 The Outshot: Wet Hot American Summer
Wanna be pals with Jesse? Here's the litmus test.
If you liked this, let someone know! Click here to share this segment.
Guests
Jessica St. Clair
Lennon Parham
Jim Rash
Bob Saget
Mark Frauenfelder
About the show
Bullseye is a celebration of the best of arts and culture in public radio form. Host Jesse Thorn sifts the wheat from the chaff to bring you in-depth interviews with the most revered and revolutionary minds in our culture.
Bullseye has been featured in Time, The New York Times, GQ and McSweeney's, which called it "the kind of show people listen to in a more perfect world." Since April 2013, the show has been distributed by NPR.
If you would like to pitch a guest for Bullseye, please CLICK HERE. You can also follow Bullseye on Twitter, YouTube, and Facebook. For more about Bullseye and to see a list of stations that carry it, please click here.
Get in touch with the show
How to listen
Stream or download episodes directly from our website, or listen via your favorite podcatcher!