Episode notes
New to Bullseye? Subscribe to our podcast in iTunes or with your favorite podcatcher to make sure you automatically get the newest episode every week.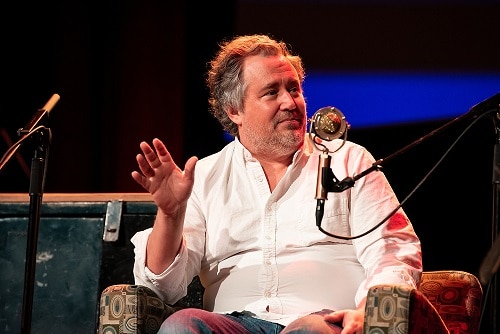 Photo: Courtesy of Casey Campbell Photography
The Simpsons Writer Bill Oakley On His Crowning Achievement and Reviewing Fast Food on Instagram
Bill Oakley's a veteran comedy writer for TV. He's worked on Portlandia, Futurama, The Cleveland Show and Disenchantment.
He wrote for The Simpsons between 1992 and 1998 – the golden years.
Together with his partner Josh Weinstein, Bill made some stone cold Simpsons classics:
Remember when Malibu Stacey got a new hat? The time The Simpsons went to Australia? Or how about the time baby Maggie shot Mr. Burns?
All those episodes were co-written by our Bill.
In this episode, Bill tells Jesse about what he feels is his crowning achievement on The Simpsons and writing reviews for fast food on Instagram.
You can see Bill's latest work on the Netflix show Disenchantment. He's a writer and executive producer for the series.
If you want to see more of Bill's fast food reviews, find him on Instagram, his handle is @thatbilloakley.
About the show
Bullseye (formerly known as The Sound of Young America) is a weekly celebration of the best of arts and culture. Host Jesse Thorn sifts the wheat from the chaff to bring listeners in-depth interviews with the most revered and revolutionary minds in our culture.
The show is carried by public radio stations around the country, and was the first public radio program west of the Mississippi to podcast. It has received plaudits from publications like Time Magazine (which called it "Pick of the Podcasts") and Salon.com. It was also honored by the iTunes editorial staff as a "classic" Best of iTunes selection. Since April 2013, the show has been distributed by NPR.
If you would like to pitch a guest for Bullseye, please email producer@maximumfun.org. Follow @Bullseye on Twitter and join the Bullseye Facebook group.
How to listen
Stream or download episodes directly from our website, or listen via your favorite podcatcher!