Episode notes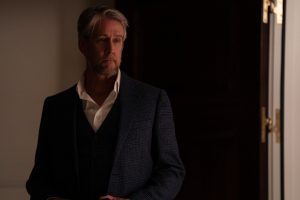 There are a lot of funny and strange characters on Succession, the hit drama on HBO. But there might not be any of them that are funnier and stranger than Connor Roy.
He's the oldest of the Roy children on the show, and is the half brother to the three younger ones.
Connor is a bit of a doofus. He falls in love with an escort, bankrolls her disastrous off-broadway play, runs for president and never, at any point, earns an ounce of respect from a single family member. And, this probably isn't a coincidence: Connor is also the only sibling with no interest in running the Roy family business.
Connor Roy is played by Alan Ruck, and he's so great at it. Alan is bizarre when the scene calls for it, but behind the bluster, the rants about biodynamic wine and tax policy, there's a vulnerability and insecurity. It makes Connor, weirdly, one of the most relatable characters on Succession.
You may also know Alan Ruck from his part in the movie Ferris Bueller's Day Off. He played Cameron,  the best friend with the Ferrari. He also had parts in movies like Speed, Twister and Cheaper By The Dozen, and TV shows like Spin City and The Exorcist.
Alan Ruck joins Bullseye to chat about Succession and what it's been like playing the character of Connor Roy on the show. He also talks about his years in musical theater, and opens up about the time he spent out of work as an actor and how it led to him eventually getting sober.
About the show
Bullseye is a celebration of the best of arts and culture in public radio form. Host Jesse Thorn sifts the wheat from the chaff to bring you in-depth interviews with the most revered and revolutionary minds in our culture.
Bullseye has been featured in Time, The New York Times, GQ and McSweeney's, which called it "the kind of show people listen to in a more perfect world." Since April 2013, the show has been distributed by NPR.
If you would like to pitch a guest for Bullseye, please CLICK HERE. You can also follow Bullseye on Twitter, YouTube, and Facebook. For more about Bullseye and to see a list of stations that carry it, please click here.
Get in touch with the show
How to listen
Stream or download episodes directly from our website, or listen via your favorite podcatcher!
Liked Alan Ruck on playing Connor Roy in HBO's Succession? Listen to these next...