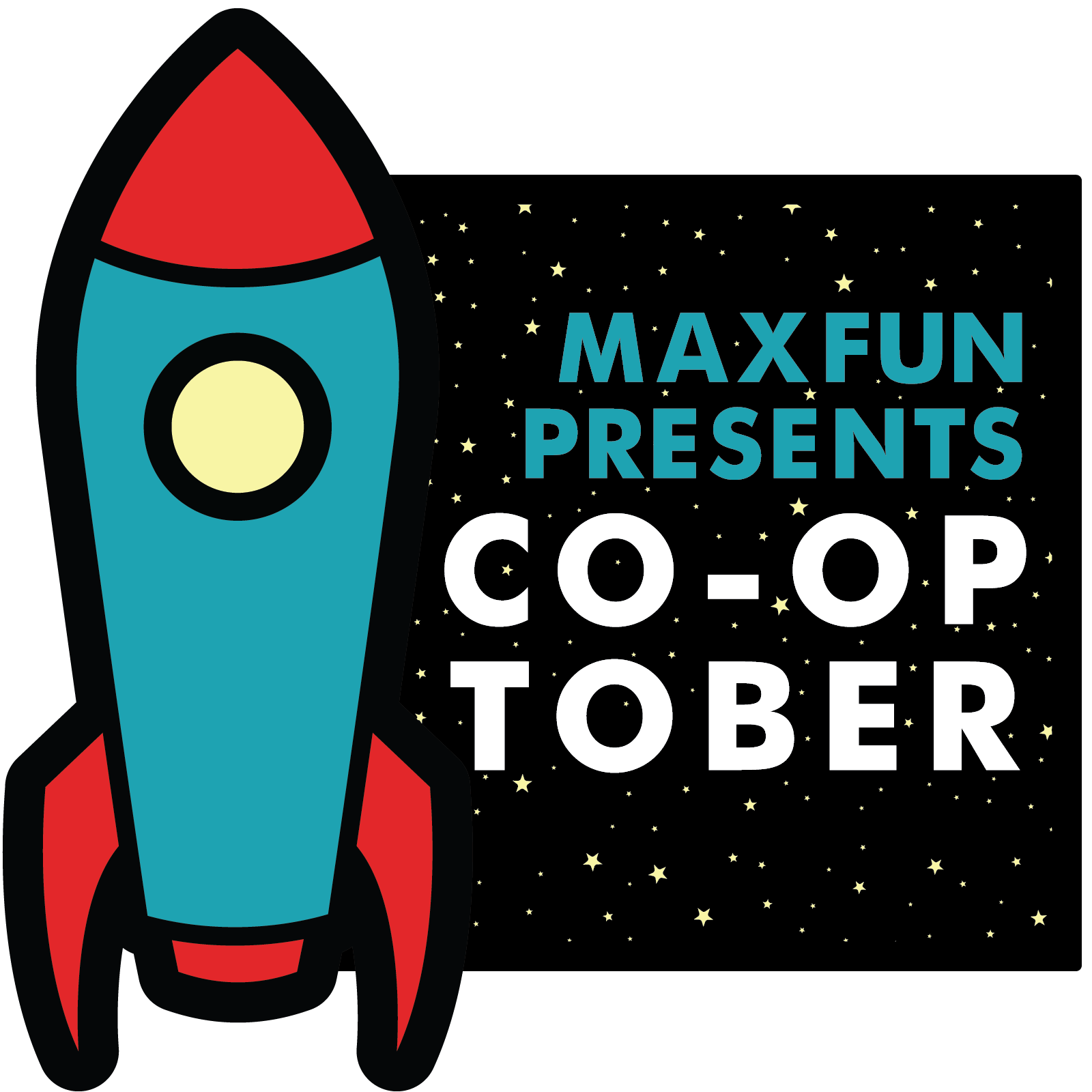 It's Co-Optober!
It's National Co-op Month and we're celebrating co-ops all month long (yes, including our own; we're excited)! Each week we'll be telling you about a different aspect of becoming a co-op through events, social media posts, and newsletters. And we'll be bringing you insights from our worker-owners and folks from other co-ops, particularly those in the creative industry.
The easiest way to keep up to date is to subscribe to our newsletter or follow us on social media! And you can also check out our news section for new blog posts!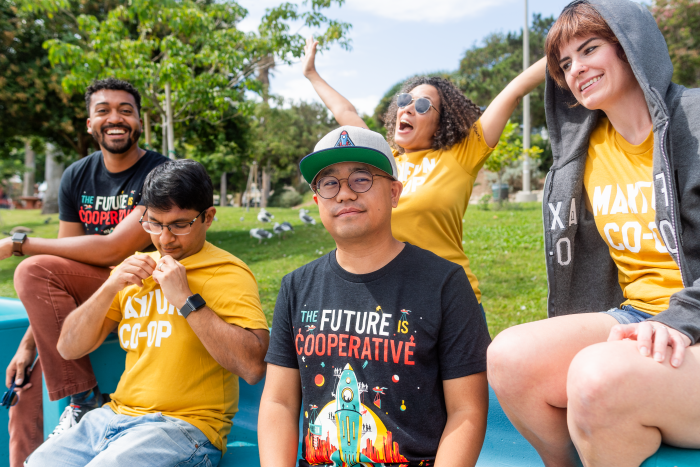 Worker-owners Julian Burrell, Bikram Chatterji, Daniel Baruela, Laura Swisher, and Kira Gowan model our limited-edition merch in MacArthur Park.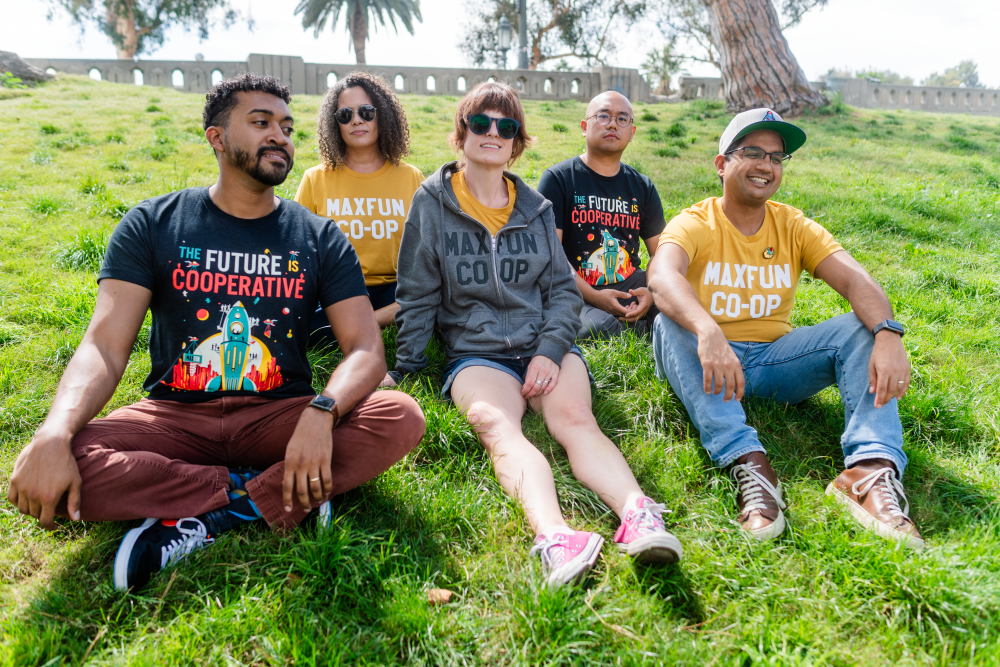 Limited-edition member-exclusive merch!
Become part of the co-op Launch Crew by buying some special merch to help get our co-op off the ground! Our friends Tom Deja and Geoff Tice designed some fantastic space-inspired stuff for us–and it's only available until the end of the month!
Already a member?
Snag this swag by using the merch button on your membership dashboard. (Use maximumfun.org/manage to get the Magic Link that takes you to your membership dashboard).
Not a member yet?
Become one for just $5/month at maximumfun.org/join.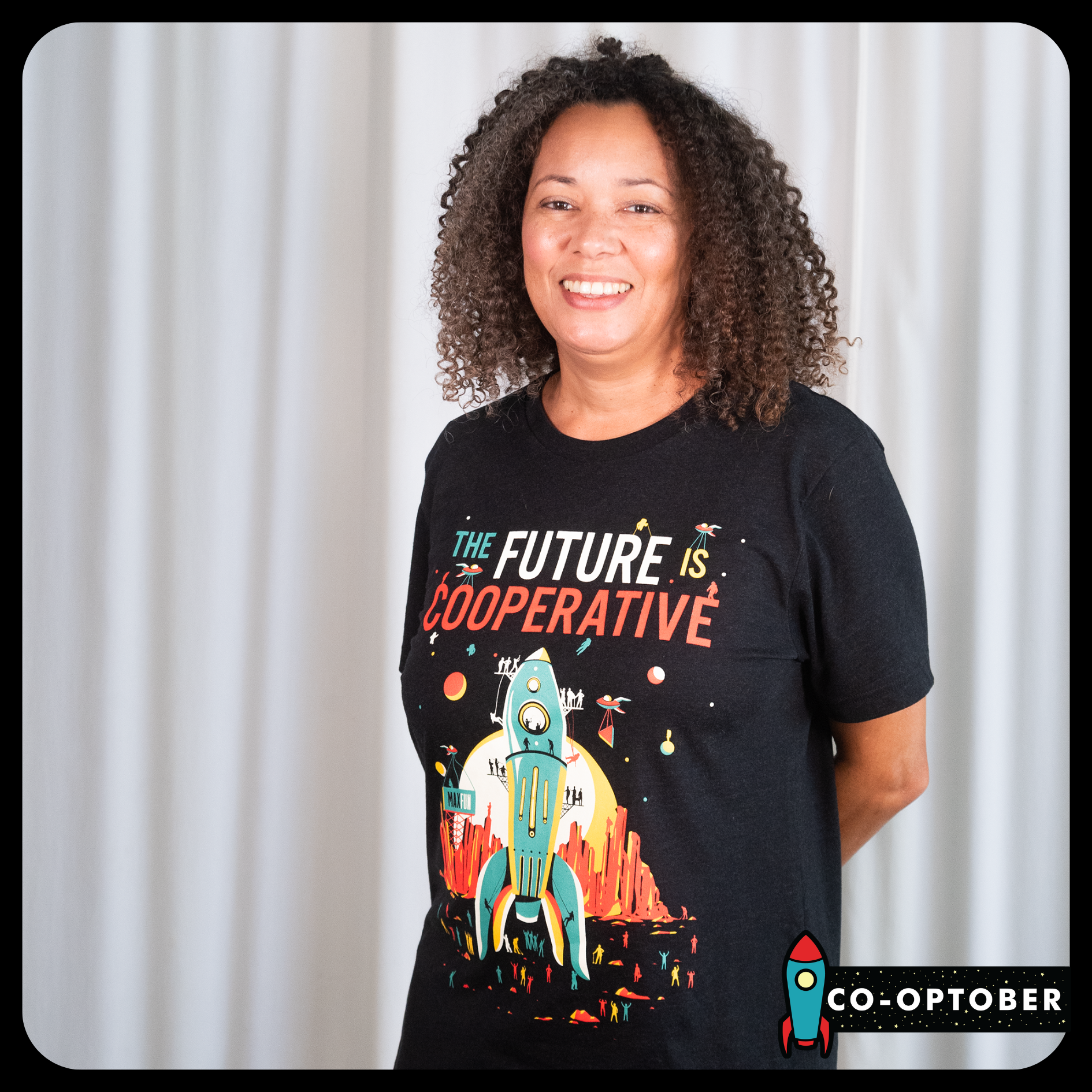 Laura Swisher wearing The Future is Cooperative T-Shirt designed by Geoff Tice.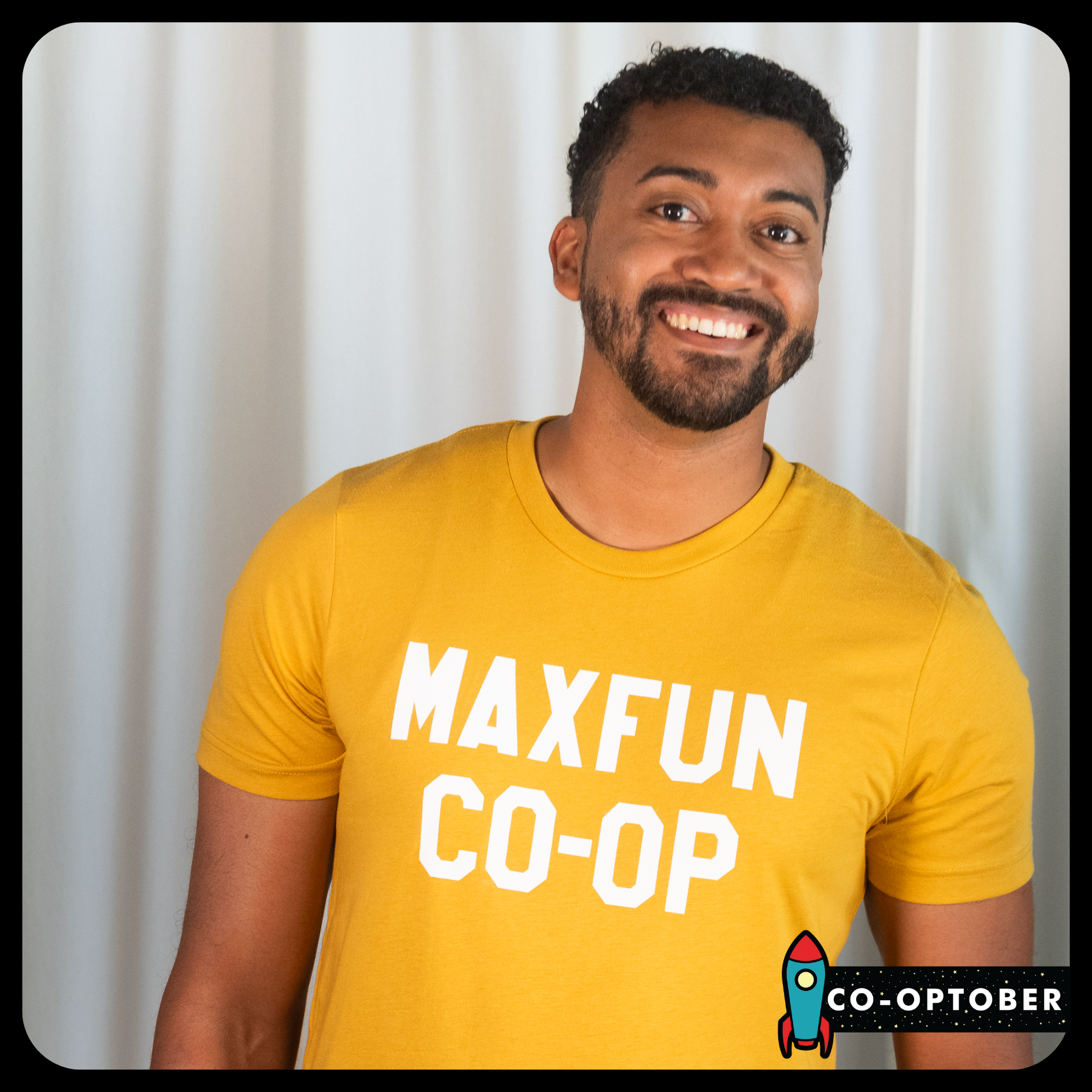 Julian Burrell wearing the MaxFun Co-op T-shirt.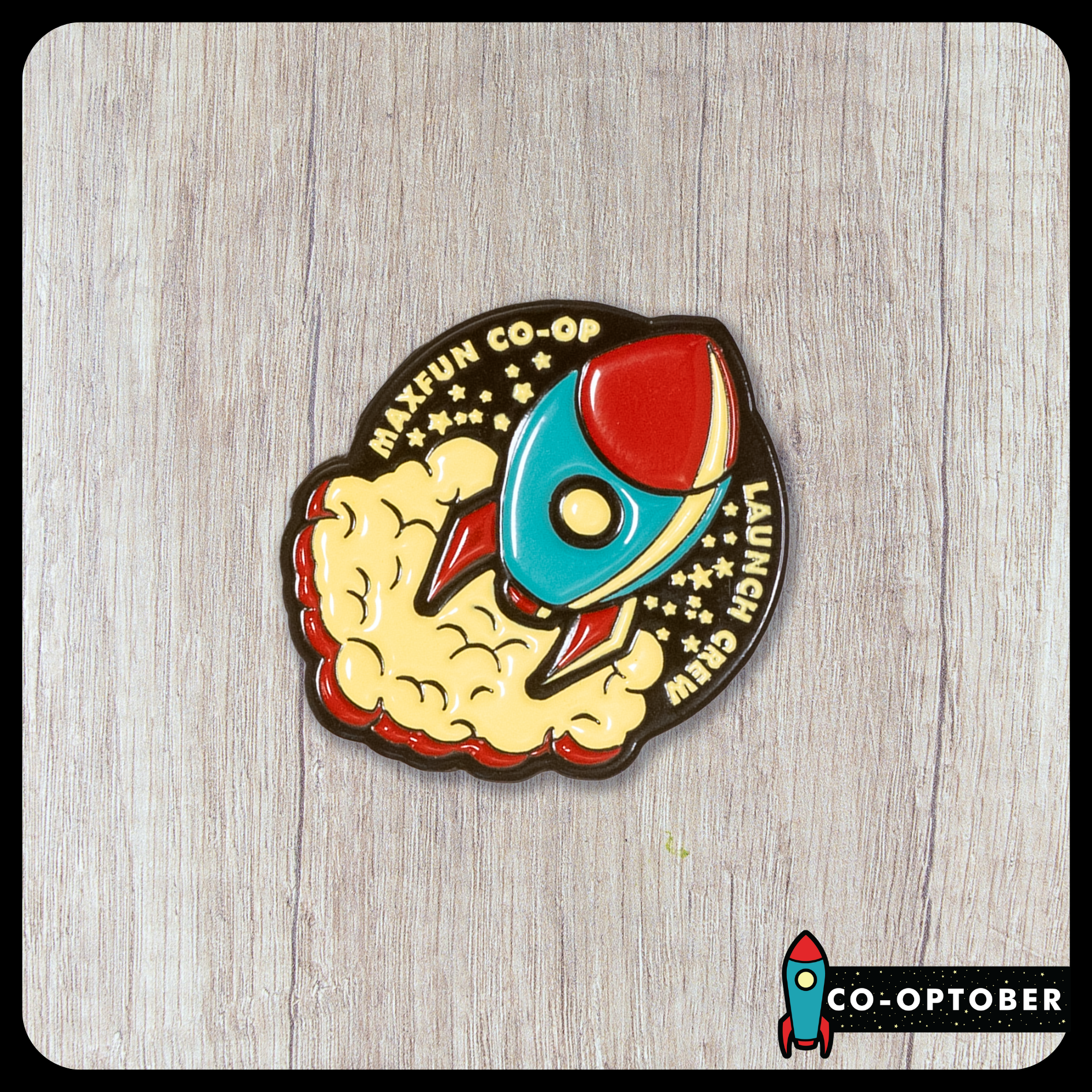 Our enamel Launch Crew pin designed by Tom Deja.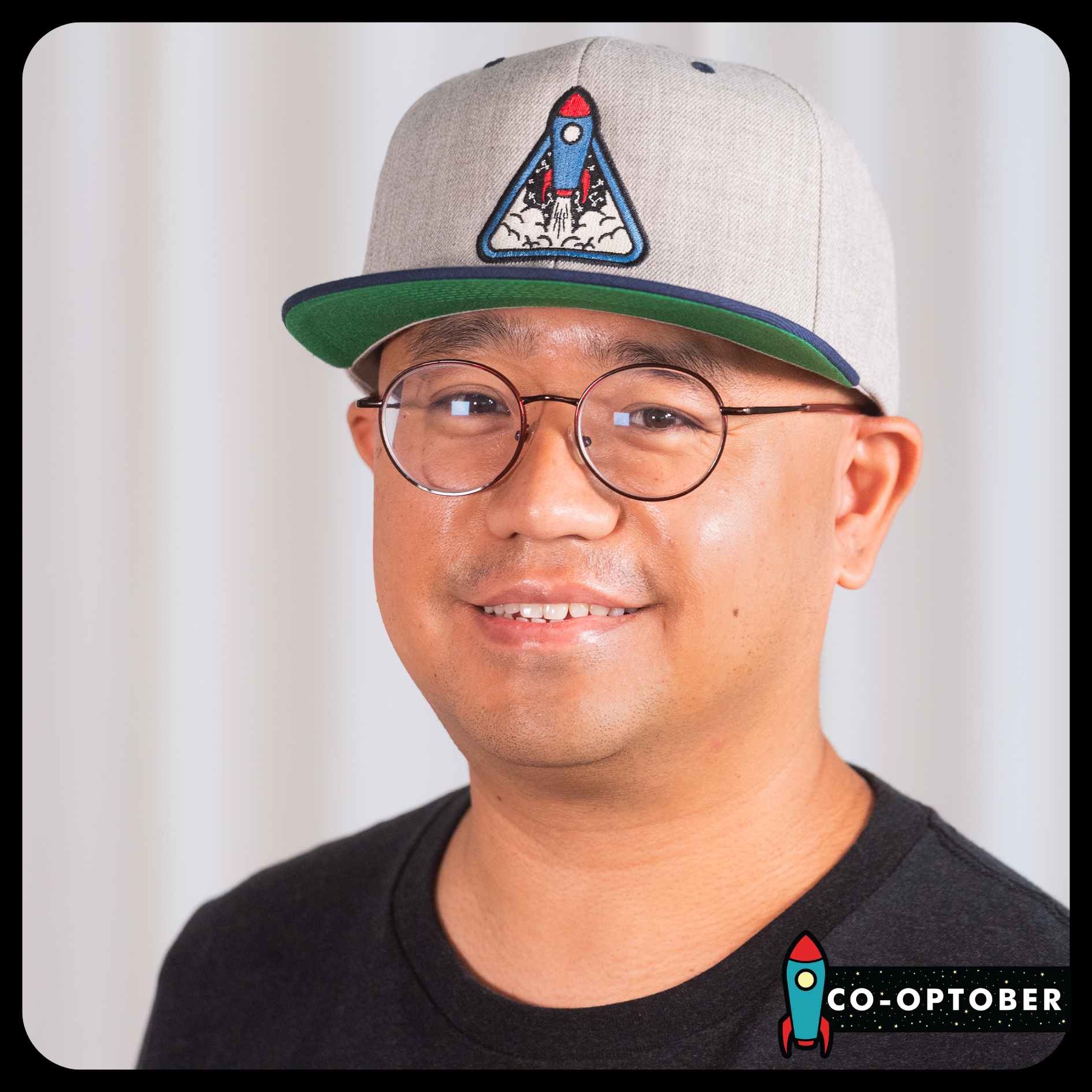 Danny Baruela donning our Launch Crew hat designed by Tom Deja.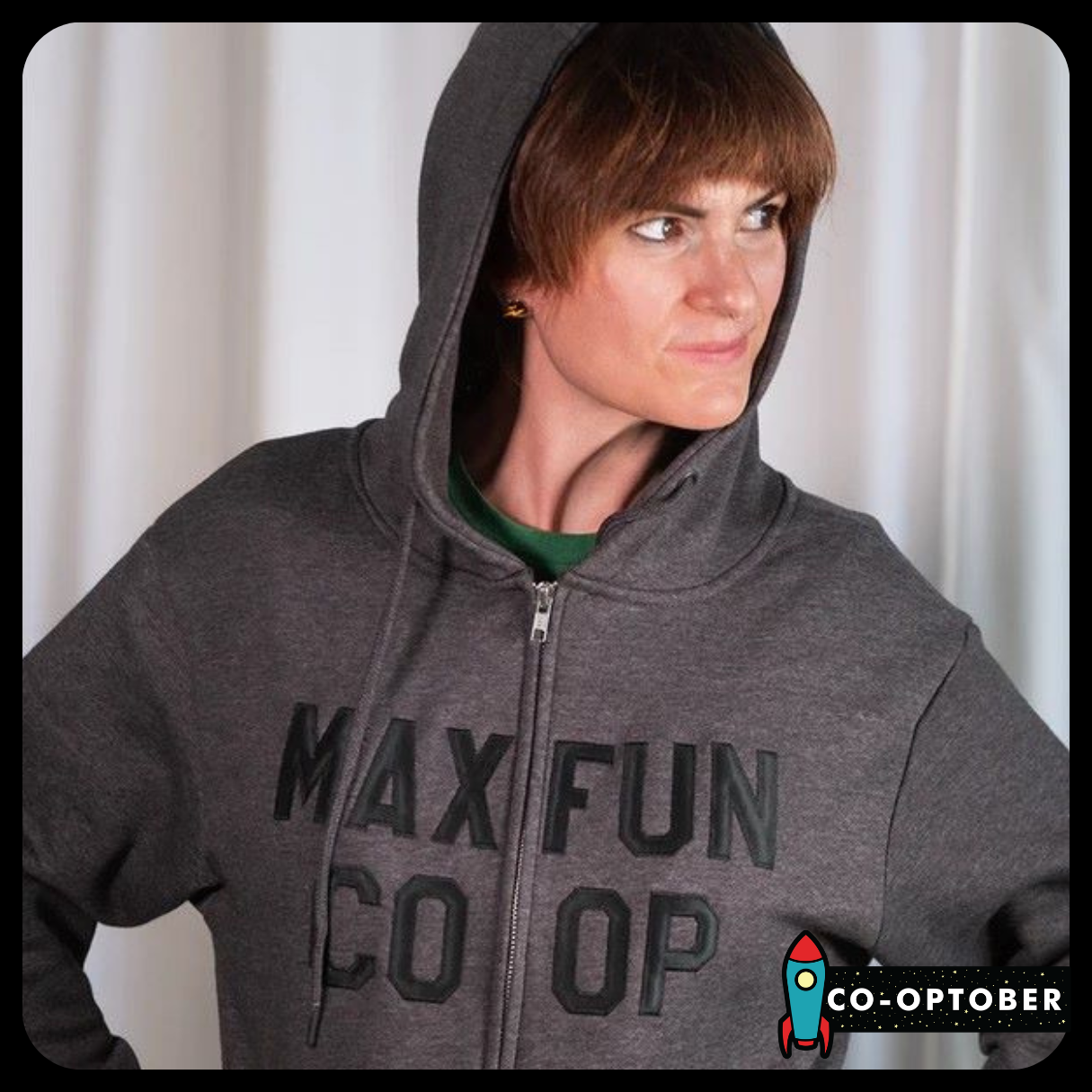 Kira Gowan sporting our zip hoodie with tackle twill lettering.
Want one of the items you see here? If you're a member, follow the instructions at maximumfun.org/manage to get to your membership dashboard. Once you're on your page, tap the button that says "Go to the store." Then buy whatever your heart desires–just be sure to do it before the end of October!  Your items will be made to order after Co-Optober, so we anticipate shipping in late November.
Thanks for your support!
Upcoming events and featured posts
We'll be having events in-person and online throughout Co-Optober, and we hope you see you at some of them! Check out our events calendar to see what's already been announced!
We're also sharing interviews with MaxFun worker-owners, including the President of the Board, as well as folks from other creative co-ops. Head over to our blog to see the newest articles!
More events and articles will roll out throughout the month!
Ways to help the co-op
The best way to help MaxFun and the shows you love in the long run is to become a monthly member. But a lot of you already are–thank you! So, here are three more ways to support the co-op in our first (and probably most expensive) year:
Buy that cool merch! It's only available til the end of the month.
Make a one-time contribution! These go towards the operating costs of the co-op.
Spread the word about us! Tell your friends, post on social media, help us grow our shows and our network.
Still wondering why we're all amped up about co-ops?
As you've noticed, the entertainment and podcast industries are, uh… going through some stuff lately. (So are a lot of industries.) Workers are getting laid off; a lot of good creative work is either no longer getting made or is not making it to an audience. We can all agree: that's bad!
But! More workers are unionizing or exploring the cooperative model; existing unions are striking—fighting to be treated fairly for their work—and we're starting to see really amazing results from that, like the new deal that the WGA is making with the AMPTP. That's good! Really good. This labor movement is important and challenging and inspiring all at the same time.
We are very hopeful that being a co-op will enable MaxFun to persevere through this tumultuous time in entertainment. It preserves our independence, and makes sure everyone who works here—from first-year producers to the CEO—remains committed to the long-term strength of the company. That strength has always been, and will always be, thanks to our audience and our partner shows. And it helps ensure that the people working at the network can continue our mission of bringing good things into the world in an equitable way.
We keep talking about co-ops because we think it's a really exciting way forward for workers, especially those in the creative industry. You'll hear more from other co-ops later this month, too, so we hope you'll soon understand more about why we're so excited about this!