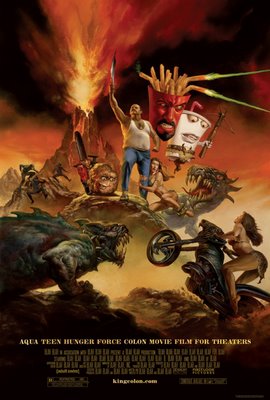 I refuse to be bought… but I'll sell out in a minute if it means free crap for you!
The Aqua Teen Hunger Force film, "Aqua Teen Hunger Force Colon Moviefilm for Theaters" is almost in here, and while you wait, rapt, wondering how they're going to convince anyone to sit through the equivalent of seven episodes in a row…
WHY NOT PLAY WITH AMAZING PRIZES?
To quote from the kind PR folks stoking the fires of internet buzz:

We'd love it if you could give away this giftbag for the upcoming movie that includes a meatwad beachball, a meatwad stress relief ball, meatwad socks, an ATHF t-tshirt, a mug koozie, a postercard, and poster.
In order to win… take a picture of yourself making a funny face (or draw one if you have no camera) and upload it to our Flickr group with the tag awesomefunnyface.
THEN… tell me what a "koozie" is. This second part is not actually a requirement of the contest, it's just for my own personal info.
YOU HAVE UNTIL APRIL 13TH, the DATE THE FILM IS RELEASED.
CONTEST… BEGIN!