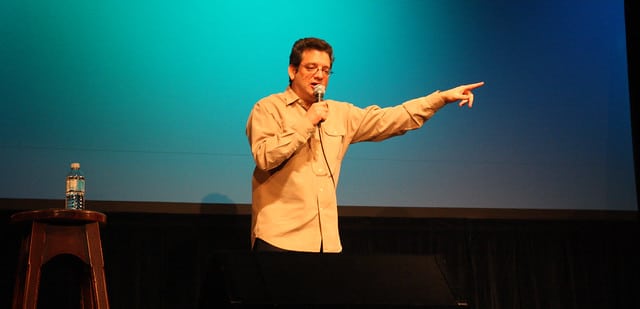 Here are some spots around the country where you can catch your MaxFun favorites this week.
Andy Kindler will be at the Playboy Comedy Lounge of the Palms Hotel in Las Vegas August 25th to 27th.
Bill Burr will be at the Stress Factory in New Brunswick, NJ from August 25th to the 28th.
Colson Whitehead will be at the University of Wyoming in Laramie tonight, August 22nd.
Childish Gambino, Mobb Deep and Blu & Exile will be in Mountain View, CA as part of the Rock the Bells Festival at the Shoreline Amphitheater on August 27th.
Jackie Kashian and Maria Bamford will be performing at the Helium Comedy Club in Portland, OR on August 25th, 26th and 27th.
Jimmy Pardo will be at the Funny Bone in Virginia Beach, VA on August 25th-27th.
Kumail Nanjiani will be performing the Meltdown Show at Meltdown Comics in Los Angeles on August 24th with Brent Weinbach, Jen Kirkman and Brett Gelman.
Marc Maron will be at Hilarities in Cleveland, OH on August 25th-28th.
Tig Notaro will be at the Tin Roof in Charleston, SC on August 24th and at the Calendonia in Athens, GA on August 25th.
Kevin McDonald and Scott Thompson will be performing Two Kids, One Hall at Zanies in Nashville on August 25th-28th.
Wyatt Cenac will be appearing at the Arlington Cinema and Drafthouse in Arlington, VA on August 26th.