Thanks to J. Smooth at Tuberaider for sharing this amazing clip of the Backyard Band, one of the best go-go bands in Washington DC. The song is "Ruff it Off," and it's filmed for a local TV station. You can see a bit of DC Hardcore in this DC Go-Go video…
I think it's wonderful that our country still has vibrant regional musical styles like Go-Go. Baltimore club music is another example… despite what some might have you believe, there are regional music styles, particularly in urban music, that remain more than just museum pieces.
In DC, there are posters for Go-Go shows plastered on every lamppost (well, every lamppost in certain parts of town). Bands like Backyard play every week at certain clubs, and folks go every week to party. Here's the father of Go-Go, Chuck Brown, rocking a DC club in 1994.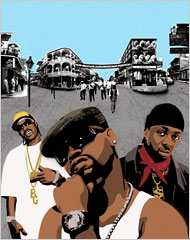 On a related note… if you don't read the Times regularly, there was a great piece this week by kelefa sanneh about New Orleans hip-hop. It's a manifesto on a topic sanneh has been alluding to for months — the way the media and dominant culture have ignored New Orleans today, even as they've celebrated "New Orleans jazz" (led by Wynton Marsalis, who's made quite a career of telling white people black culture is something that happened between 1920 and 1955). I wouldn't say that I'm Bout It Bout It, but I agree that Juvenile and Lil Wayne are two of the most talented cats out.
Don't believe me? Watch Weezie rip the Booth at Rap City and tell me otherwise… (and if you need more proof, watch him rock "Shooter" with Thicke)