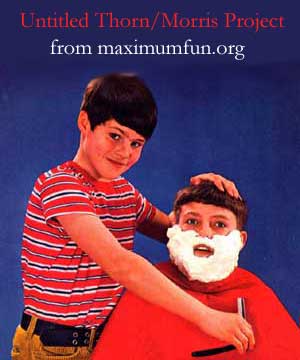 It's here!
"Untitled Thorn/Morris Project" is the new podcast from maximumfun.org. Your hosts Jesse Thorn, "America's Radio Sweetheart" and Jordan Morris, "Boy Detective" will steal your hearts with irreverent chat, psuedo-celebrity guests, and MAXIMUM FUN.
Here's a rundown of Episode One:
* An extensive discussion of the man who hawks loogies outside of Jesse's apartment window.
* Why are we doing the podcast? Vanity, primarily. We also want people to call us at 206-384-4FUN.
* We used to get a lot of calls from weeeeeeird Santa Cruzians. For example — people who opposed the flouridation of water (apparently they didn't realize that Dr. Strangelove was a work of satire).
* A guy who worked at our station, Bob, lived in the woods. Not in a house in the woods, but literally in the woods, under a tarp. This was not considered especially unusual at our station.
* Why did the white reggae djs speak in faux-Jamaican patois sometimes, but not other times?
* Jesse talks about adjusting to life in LA — Jordan points out that compared to Orange County, LA is Valhalla. They agree that while it's hacky to talk about the traffic in LA, it really is unbelievable — and unpredictable.
* Jordan runs down his LA apartment history. Now he lives with our pal Lauren… he doesn't have any stuff, Lauren wants to have stuff. What should we do? We're gonna get Lauren on the show, call us and share a question for Jordan and Lauren that you think would help, or tell us what you think of the situation. Has this ever happened to you? 206-984-4FUN.
* Hang it up:
APPLES
PERFORMANCE POETRY
LAWNS
SNIPING AT CELEBS
CRACK COCAINE
PIRATES
* Keep it Up
HOBOES
BURGLARS / ESCAPED CONVICTS
VIKINGS
SAFARI CAPTAINS / PEOPLE IN PITH HELMETS
CONQUISTADORS
THIS WEEK'S ACTION ITEMS:
* What should we call the show?
* What's a good replacement for pirates (culturally speaking)?
* How can we settle Jordan's housemate dispute?
* What's your worst holiday memory, that's funny looking back?
Call 206-984-4FUN to share your thoughts on these ACTION ITEMS.
Subscribe in iTunes
Podcast Feed
Download Episode One
Hear Episode One