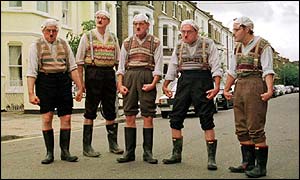 KERA-TV in Dallas was the first PBS station to broadcast Monty Python's Flying Circus, and it was the Pythons' first stop in the US after the premier of Monty Python and the Holy Grail in Los Angeles in 1975. This interview footage first aired live on KERA that year, and hasn't been seen by the public since. It was discovered on an old reel that had been saved by an engineer, and as you can see, it cuts off after about 14 minutes… the engineer taped over the rest. It's a look at the group being candidly questioned by fans at the peak of their fame and creative powers.
If you prefer not to watch the video in-line, it can be downloaded in iPod-ready format. You can also download the video or subscribe to our free podcast from iTunes. Our show, of course, features many in-depth interviews with folks in entertainment and the arts, and particularly comedy.
"Monty Python's Personal Best" airs this month on PBS, and Flying Circus returns to PBS later this year. Personal Best was also just released on DVD, and as a DVD box set.

Please share this blog link, but understand that KERA and the Python folks retain the rights to their footage, so please refrain from redistributing the file itself.
If you're coming from outside the blog, I encourage you to check out our radio show / podcast, The Sound of Young America. We've interviewed many comedy legends, from Bob Odenkirk & David Cross to, just last week, Terry Jones of Monty Python. It's totally free, so take a look at our archives and see if something interests you. You can also check out our blog for news and views from the world of art & entertainment.
My thanks go to KERA in Dallas for sharing the footage with us, especially to Kim and Bill Young, who made the arrangements. Also to the Python organization for giving us clearance to share the Flying Circus footage seen in the clip. Also, thanks to Tyler MacNiven and Jessica Jardine for their help shooting the introduction.