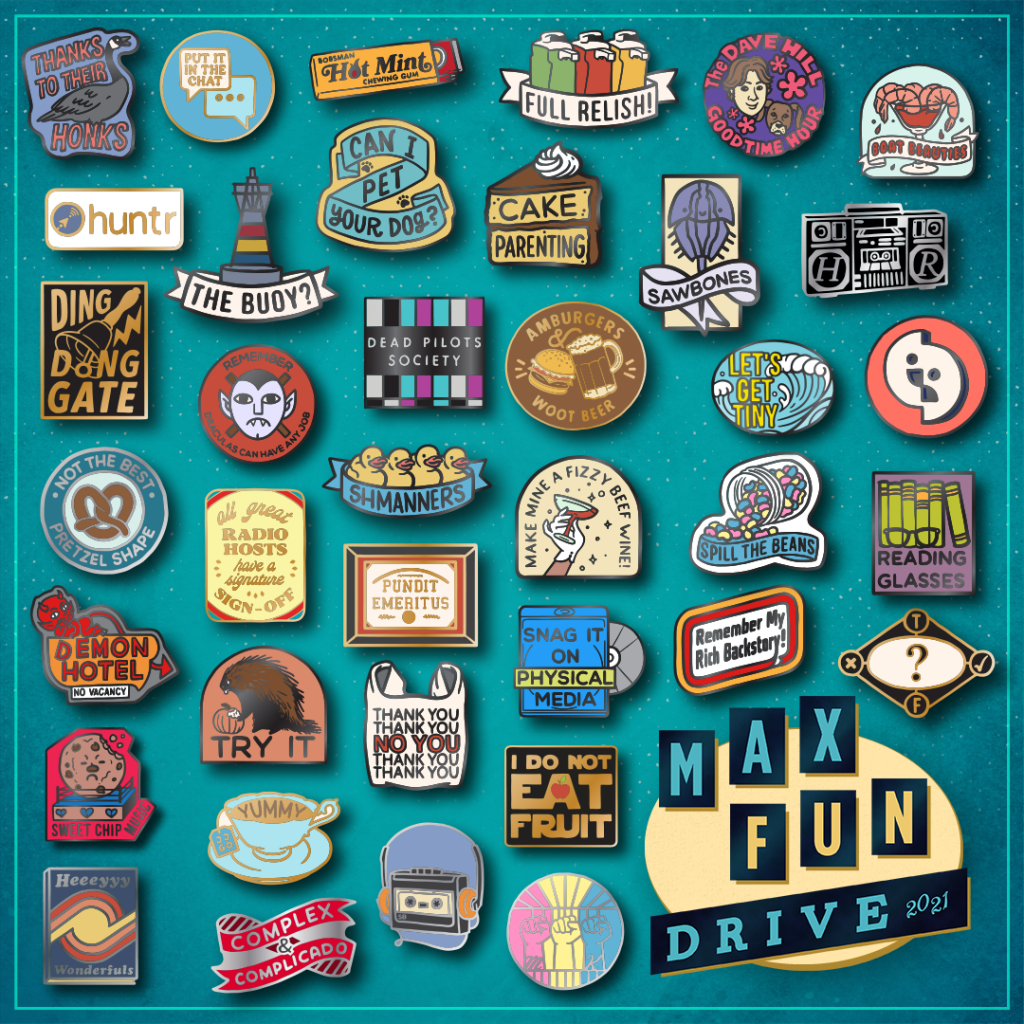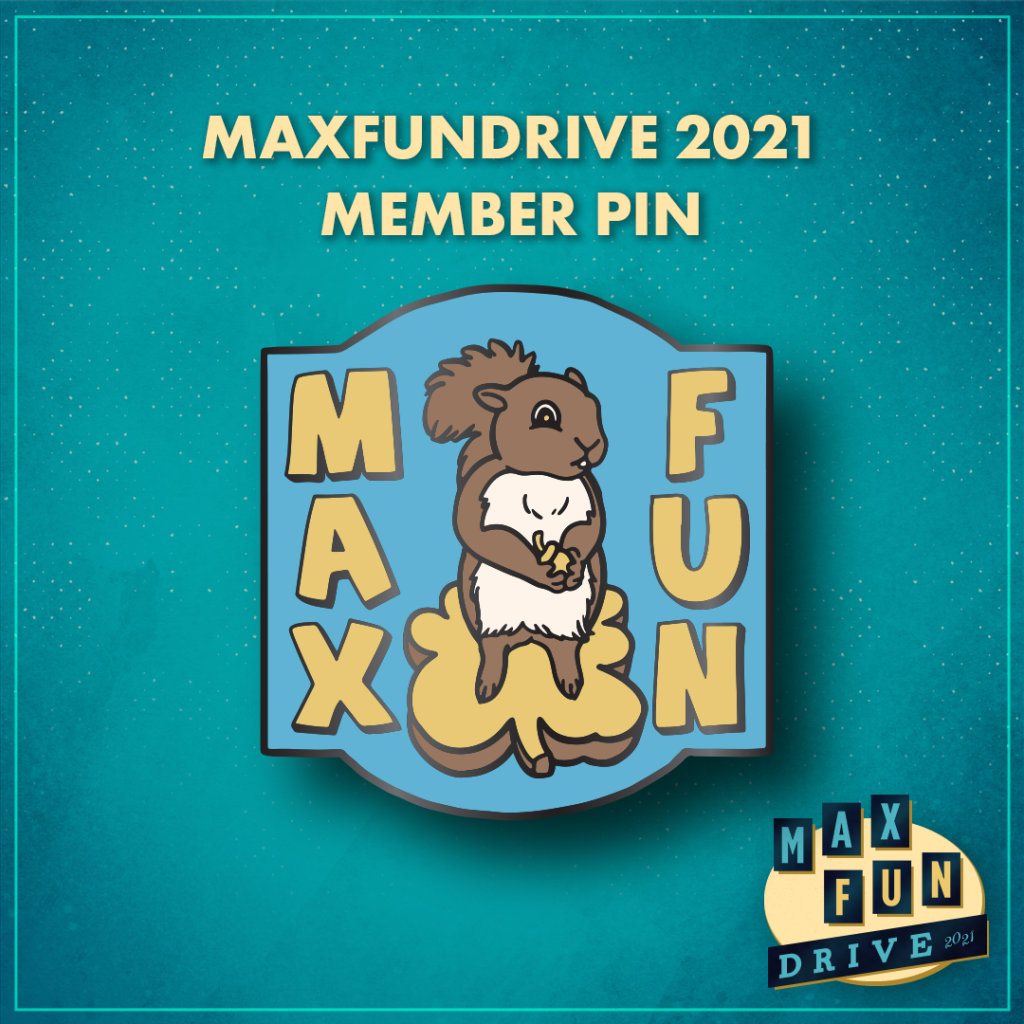 Thank you again for your generous support of Maximum Fun!  We knew we were shooting for the stars a little bit with this year's goal, especially because the past year has made things pretty tough to predict. even if we didn't reach our goal, we are humbled and thrilled at the tremendous number of folks who participated in this year's MaxFunDrive! 21,576 people came out in the past two weeks and opted to start supporting or to increase their support. Plus, over 600 generous folks in the MaxFun community bought gift memberships for anonymous MaxFunsters who couldn't afford one otherwise. And those numbers aren't even counting all of the amazing folks who've stayed steady members for years. That's absolutely incredible and we can't thank you enough!
Our member-exclusive pin sale featuring 2021's batch of MaxFunDrive-exclusive enamel pins designed by Megan Lynn Kott is on now! This is the last year we'll be doing pins for a little while (we're working on fun stuff for next year, don't worry), so be sure to get what you need for your collection!
The 2021 pin sale will benefit EveryoneOn!
As you may know, in the past we've tied having our member-exclusive pin sale to our goal. But this year, we knew our goal was ambitious and we didn't want to risk our ability to raise money for charity, so we decided before the Drive that we'd have our pin sale no matter what our number ended up being–with all proceeds going to charity!
The past year proved what we already knew: that having access to the internet at home is a necessity for work, school, healthcare, and keeping in touch with friends and family. So, the proceeds from this year's pin sale will go towards EveryoneOn! We're grateful that, with your support, we'll be able to help low-income folks gain access to affordable computers, internet services, and digital literacy programs. 
The pin sale runs from Monday, May 17 to 11:59pm PT on Friday, May 28. All $10+ members will have the ability to purchase pins from any show, but we also have one special MaxFunDrive 2021 pin that all members at any level can purchase! So if you've been on the fence about becoming a member, you'll have until noon PT on Thursday, May 27 to go to gain access to the sale by becoming a member.
How to buy pins
We started emailing out pin sale codes at 1pm today (Monday, May 17), but since our store can get overwhelmed if everyone goes there at once, we'll be rolling them out slowly over the next few hours. You'll need the code in that email in order to access our store and purchase pins.  All pins are $10, with the exception of our all members pin–that one is $8. Please check your spam folder and promotions tab and search your inbox for an email from membership@maximumfun.org. If you still can't find it by this evening, email us there.
Once you have the code from your email, the link for the pin store is: maxfunstore.myshopify.com.
Pin sale FAQs
Pins CANNOT sell out!

Because we make our pins to order after the sale is over, it's not possible for any pin to sell out. So don't fret if you get your pin email later than other folks!

$10+ members will have access to all of the show's pins.

You can buy what we call a reasonable amount (which includes the ability to get the whole set or to get a handful of some pins if you want to give any as gifts or get backups in case you lose any.

All members at any level can buy our special MaxFunDrive 2021 pin.

It's a very cute pin featuring our original mascot, a squirrel named Nutsy.

The pin sale will close Friday, May 28.

When it's closed, it's closed! Be sure to make your purchases before then. 

We can't offer refunds

on purchased pins, so please keep that in mind!

It'll be some time before you get them!

Pins are made to order after the sale and ship separately than MaxFunDrive gifts. We expect it will take around 3 months for pins to start shipping, but we'll keep you posted.
Ok that covers it for now! Go get those pins and help bridge the digital divide! Thank you!