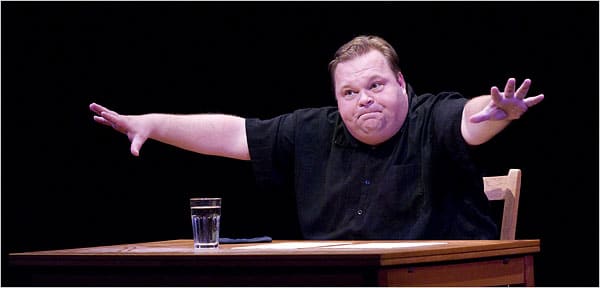 BIG NEWS.
Two of TSOYA's top pals have solo shows running in New York, and if you miss them, YOU'RE A FOOL.
Our pal Mike Birbiglia has his first solo stage show, called Sleepwalk with Me, running at the Bleeker Theater. Mike has always been fantastically hilarious as a standup, but this show is also receiving acclaim for its emotional depth. WE VOUCH FOR MIKE. If that's not good enough for you, listen to Mike on TAL and TRY not to laugh uncontrollably. FURTHERMORE: you can get discount tickets with this link.
ADDITIONALLY: our pal Mike Daisey (above) has his new solo performance, If You See Something, Say Something, running at the Public Theater. It's about the resonances of the cold war in contemporary America, and in Mike's own life. If it's like his other work, it's fantastic. The Times certainly seems to have enjoyed it. So have others. Tickets are available here. Mike has generously offered TSOYA fans a big ticket discount — $35 tix can be had with the code SSMKTG. It is offered with the proviso that tickets are selling out fast and that code might stop working at some point.
OK, New York: GET OUT THERE.