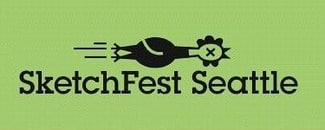 One of my personal favorite sketch groups in the country, The Cody Rivers Show, is performing a fundraiser for Sketchfest Seattle tommorow night (Tuesday). Sketchfest Seattle is the oldest sketch comedy festival in the country, and they're really great folks who run a great festival, which we were proud to sponsor last year.
The Cody Rivers Show are a two-man group who perform a wild combination of sketch, dance, mime, theater, and other crap that is way better than that description sounds. Maybe the most fun thing you can see on the sketch comedy circuit.
THE SKINNY
Tuesday, May 22
Doors open at 7pm. Show starts at 7:30 p.m.
Theatre Off Jackson at 409 7th Ave. S
Levels of Admission – Giggler at $20, Chuckler at $30 (comes with 10 raffle
tickets), or LOL at $100 (comes with 10 raffle tickets, reserved seats,
recognition in festival program)
Advanced tickets at www.brownpapertickets.com
More info at www.sketchfest.org
A portion of fundraiser proceeds will go to our partner organization,
Gilda's Club Seattle. Named after beloved sketch comedienne Gilda Radner,
Gilda's Club provides support to those affected by cancer as a supplement to
medical care.