Hello! I can't believe it's already September!
I'm back with that big announcement I mentioned in my last message, and I'm very excited to start telling you about it!
---
Announcing MaxFun Block Party Oct. 11- 22!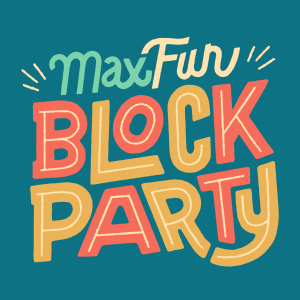 In the middle of October, MaxFun is going to hold a virtual Block Party! We've been working on this for months, and I'm so excited to share it with you.
Block Party is a new way to bring the MaxFun community together online for some fun, plus a little inspiration for you to try a new show or share a show you like. We'll have two weeks full of excellent episodes, games, recommendations, and other fun stuff. During Block Party all MaxFun podcasts will be throwing open their (metaphorical) doors, with an episode that is especially welcoming to new audiences. So if you've been wanting to introduce friends or family to a favorite show, or have been looking to try out something new yourself, come on in! We'll be back again at the beginning of October with more details, but I do want to introduce you to one of the cool things we'll be doing so you have plenty of time to decide if you'd like to participate in your own version of it…
---
Doing Good with MaxFun in 2021!
The MaxFun community is full of the most generous and caring folks we know, and we've been wanting to help people get together for a volunteer event for a while now. For the full two weeks of Block Party, we're going to be encouraging MaxFunsters to take a bit of time to do some good in their local communities–and MaxFun staff will be doing the same. Here in L.A., we're going to assemble kits for a local nonprofit that distributes them to folks who are unhoused, and as a virtual option, we're going to do a Zoom call and hang out while making bookmarks for Liberation Library. If you're interested in doing something similar, details on both of those ideas—and more—are described  in this handy guide on how to get a group of local MaxFunsters together (either safely masked in person or virtually) to give back to your community. We hope you'll join us in Doing Good with MaxFun and we'd love to learn about what you and your family/friends end up doing!
---
Our audience survey closes Sept. 24
If you'd like to help us out with a five-minute survey, you can get 10% off at the MaxFunStore when you complete it!  Most of our support comes from our audience (thank you), but many of our shows also rely on ads for some income. This survey will help us keep the few ads we do run relevant to you: maximumfun.org/adsurvey. Thanks!
---
Upcoming livestreams (and a couple you may have missed!)
MBMBaM and Sawbones on Sept. 24 at 6pm PT / 9pm ET
The Flop House on Sept. 25 at 6pm PT/ 9pm ET
The recordings of the London Podcast Festival shows stay up for one week, so you can still get tickets to watch recordings of Judge John Hodgman, Tights and Fights, We Got This, and Beef and Dairy Network.
Thanks for reading! We're all so excited to get the MaxFun community together online for Block Party next month! Stay tuned for more updates on all the good stuff we've got planned.
If you'd like to receive messages like this to your inbox, sign up for the MaxFun newsletter at maximumfun.org/newsletter.