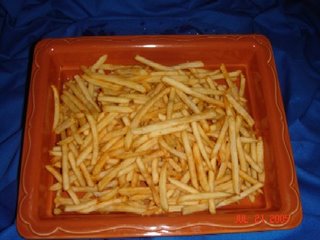 If you ate in any of the Captol Hill House of Representatives cafeterias, you had to eat Freedom Fries and Freedom Toast. Until now. Story here.
My favorite quote comes from a spokesperson for Representative Bob Ney (R-Ohio), one of the goofballs that originally sponsored the move
"We don't have a comment for your story," said a spokeswoman for Mr. Ney.
Way to cut and run, Congressman Ney. Let Frenchdom ring!
Thanks to Reason Online for the tip.