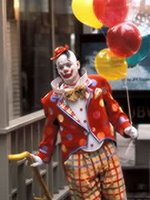 Browsing through the New York Times today, I noticed that the 1990 Bill Murray vehicle "Quick Change" is coming out on DVD. It's a truly underappreciated film (so is "The Man Who Knew Too Little," by the way), and I had no idea he co-directed it.
Early in the film, there's a scene where Murray is holding up a bank dressed as a clown. The elderly security guard looks at him and asks, "What the heck kind of clown are you?"
Murray pauses, gives a perfect hangdog look, and says, "The crying on the inside kind, I guess."
Perfect moment.
One of "Big Time" Gene O'Neill's favorites.
Quick Change

To date, Bill Murray's only credit as a director (shared with the writer Howard Franklin) is on this modest but delightful comedy from 1990. It finds Mr. Murray as a disaffected New York City civil servant who hatches a complicated scheme to rob a Park Avenue bank (it involves a clown costume and a vest of dynamite) only to find his escape plans seriously frustrated by the Brooklyn-Queens Expressway, a situation with which every New Yorker can identify. Accompanied by his co-conspirators, Geena Davis and Randy Quaid, Mr. Murray tries every trick in the book to get to Kennedy Airport in time to catch his plane and is finally reduced to taking a bus, piloted by Philip Bosco, that goes (and here is the important nuance) near there.

"Quick Change" is a crisp, efficient and subtly subversive film that makes you wish Mr. Murray would get back in the driver's seat instead of drifting through another lazy celebrity roast like "Broken Flowers." Mr. Murray has always been a comedian with something more, a secret reserve of melancholy that sets him widely apart from his fellow "Saturday Night Live" alumni. "Quick Change" just hints at the angst eating at his character, and that's enough to lift it to another level. Warner Home Video, $14.98, R.
NYTimes.com Link (requires registration, I say use bugmenot.com)