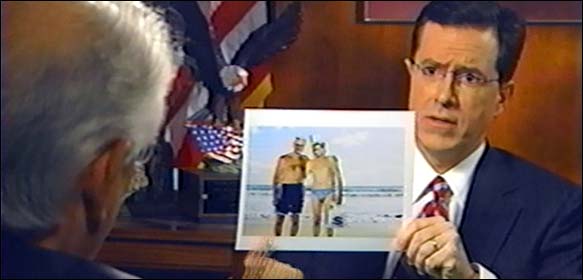 Great piece in today's Times about Steven Colbert's quest to interview 434 of the 435 members of the House of Representatives. (Colbert says Rep. Randy Cunningham of California (R) is "dead to me").
Colbert's already talked one congressman into punching him, and another into allowing Colbert to comb his moustache.
I was a little dissapointed to read that Barney Frank of Massachusetts, one of the funniest congressman (a slight distinction no doubt), was the only one who said he wouldn't do it again. He said Colbert was "Two Stooges short of a good routine." Bah humbug. If you didn't want him to make fun of your gayness, Barney, maybe you shouldn't have gotten caught with that male prostitute.
One of the odd transformations that the Daily Show franchise has undergone over the course of the Stewart Administration is away from the Ali-G-esque "we're real reporters" act of the early days, and towards complex comedy set pieces. Actually, they've lately been moving away from field reports all together in favor of studio bits like "This Week in God."
There's no doubt that Stewart is a wonderful TV host, who manages to be both likeable and snarky, a tough task. And the folks the Daily Show hires are almost without exception fantastic. But whent he subjects are in on the act, the whole thing loses a bit of it's power, doesn't it?
Personally, I'm very excited about a show called American Lives, coming to Comedy Central this summer. It stars, among others, past Sound guests Zach Galifianakis and Matt Walsh, as a fictional newsteam, travelling the country interviewing real people and having semi-improvised interactions. It's produced by one of the fellas behind Ali G, and it sounds like a winner to me. Walsh is one of the best straight men in the business, and as Galifianakis showed in the Comedians of Comedy, he's an amazing talent, whose comic live wire act is totally engrossing.