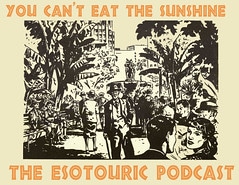 Vital stats:
Format: comments on Los Angeles and the changes therein, followed by interviews with those tied to the region's past
Episode duration: 1h-1h30m
Frequency: weekly
I've never taken a trip with Esotouric, which offers "provocative and complex, but never dry" bus bus tours of greater Los Angeles which mix "crime and social history, rock and roll and architecture, literature and film, fine art and urban studies into a simmering stew of original research and startling observations" on such territories as "Hot Rods, Adobes, and Early Modernism," "Haunts of a Dirty Old Man" (i.e. Charles Bukowski), and "Pasadena Confidential with Crimebo the Crime Clown." Until such time as I cough up the sixty bucks to board an actual Esotouric bus, I'll opted for the next best thing: You Can't Eat the Sunshine [RSS] [iTunes], a weekly podcast hosted by the company's proprietors, the husband-and-wife team of near-obsessive Los Angeles enthusiasts Kim Cooper and Richard Schave. Each episode opens with a local place-name-checking theme song by a ukulele-playing lady known as the Ukulady, who looks, as her site reveals, exactly like she sounds, thus embodying a perfect union of form and substance. The podcast on which she plays enjoys a similar alignment between its own expansive form and that of the city/county/"mega-region"/half of the state of California it examines.
You Can't Eat the Sunshine doesn't make the obvious choice of offering audio versions of Esotouric tours, but it surely burns as much gas each time out with its actual mandate: to track down unusual people — poets, craftsmen, professors, impersonators of historical figures — living in Los Angeles and its environs, most of whom have strong ties to the place's past, and interview them. On some episodes this just means going downtown; on others it means rolling to Long Beach, Eagle Rock, UCLA, Downey, La Mirada, or Lake Elsinore, the names of which wear me out in the typing alone. "We were born here," announces Cooper in the 90-second back-and-forth spoken intro that precedes the Ukulady, and indeed, I've come to notice a certain divide between native Los Angeles appreciators and those transplanted. I fall into the latter group, having moved here for no better reason than that it fascinated me more than any other city in America — well, that and its robust revival cinema scene — and now my current projects include not just a book on the place but an interview podcast more than half of whose episodes deal with Los Angeles. By all rights, I should have taken every available Esotouric journey already, if not up and launched a competing provocatively complex, research-and-observation-stewing bus tour company of my own.
One explanation, grounded in the nature of the place, almost provides itself: we live in such an incomprehensibly vast city that even the like-minded seldom encounter one another. Yet here, even the likest minds diverge on many points. The Ukulady sings, for instance, of "the long-lost neighborhood of Hermon between South Pas and Highland Park." The idea of a long-lost neighborhood between South Pasadena and Highland Park may, even if you live there, hold out little immediate appeal, but Cooper and Schave see things differently. For seemingly every square mile in and just beyond greater Los Angeles, no matter how marginal, they know a story uniting the historical, political, social, and architectural layers that lay sometimes above but mostly beneath it. Admiring this skill, I've also tried to cultivate it by doing as much reading, writing, and talking about Los Angeles as possible. Many of books I've picked up and enjoyed in the process make much of the city's sheer size, whether in celebration (The Architecture of Four Ecologies by Reyner Banham, from whom our hosts took college classes) or in a kind of nonplussed curiosity (The Ultimate City by the New Yorker's Christopher Rand): Los Angeles itself already covers something like 500 square miles, so why not treat Malibu and Orange County as Los Angeles too — or even everything north to Santa Barbara and south to San Diego?
At that scale, decoding the urban palimpsest becomes to me, for whom traveling more than about twenty miles by land — least of all by bicycle, my default mode — tends to feel fundamentally unacceptable, an off-puttingly arduous task. Still, it sounds as if Cooper and Schave have dedicated their lives and careers to pursuing that, and (to use a favorite expression of Schave's, with his deeply earnest interviewing persona) God bless 'em for it. Their interest comes though with special impact in the "Closely Watched Trains" segment of the podcast, which happens somewhere after the Ukulady and the shared monologue, but before the interviews. Regularly clocking in at half an hour by itself, it finds our hosts running down the list of what has changed recently in greater Los Angeles, what seems about to change, what needs to change (usually back to some previous state), and what may or may not receive special protection from further change. Some of what they discuss strikes even me as inside baseball, these two having clearly visited city meetings and offices where angels fear to tread, but others have some familiarity. Let me take one example: Johnie's Coffee Shop. Every Angeleno knows Johnie's, and most visitors to Los Angeles have at least passed it, as I do every few days on bike rides west on Wilshire from home in Koreatown.
There Johnie's silently sits on the corner of Fairfax, totally non-operational as a coffee shop, and at best intermittently functional as the movie-shooting location it claims to offer. This may sound like a structure in immediate need of replacement with a skyscraper, but heed the words of midcentury "Googie" architectural historian Alan Hess, who says the 1955 building "tells us as much about that period in L.A. history as the bungalows of Pasadena told us about the 1900s or the missions told us about 19th century Southern California," embodying "all of the changes in L.A.: becoming suburban, auto-oriented, also becoming a city of the future." He speaks for a surprising number who value this, just as do Cooper and Schave, who have made Johnie's acquisition of landmark status a very closely watched train indeed. I myself have taken two minds about Johnie's, just as I have about practically everything else in Los Angeles. Despite feeling enamored, like most everyone, with what the pure Googie aesthetic evokes, I'd really like to, y'know, eat something there. Even more so, I'd like to see a subway station there, the looming construction of which reportedly had preservationists sweating for a few minutes.
Still, Cooper and Schave know too much to present themselves as either straight-up preservationists or (not that this counts as a word) redevelopmentists. Nor, even though they describe themselves as loving Los Angeles with a Banhamian "passion that goes beyond sense or reason," do they come off as modern-day boosters. But their fascination itself functions as a valuable corrective to the kind of reflexively dismissive sentiment so often and so stultifyingly aired in Los Angeles' direction. This doctrine regards any given one of the city's assets as merely evidence of its deficiencies: its variety underscores its incoherence; its colorful history, a comparatively dull present; its recent proliferation of urban amenities, just how long it inexplicably did without the basic qualities of a city; and its great size, its great inconvenience. That last point actually still resonates with me, but then, I come from a different generation of Los Angeles obsessives — Johnies come lately, as it were — drawn by its new centripetal force, ever-increasing diversity and density, and weakening expectations of car and/or home ownership — but a generation that, perhaps for that reason, still has much to learn from a show like You Can't Eat the Sunshine.
[Podthinker Colin Marshall, who has five Podthoughts to go before retirement, also hosts and produces Notebook on Cities and Culture [iTunes] and writes essays on literature, film, cities, Asia, and aesthetics. He's working on a book about Los Angeles, A Los Angeles Primer. Contact him at colinjmarshall at gmail, follow him on Twitter @colinmarshall, or like his brand new Facebook page.]