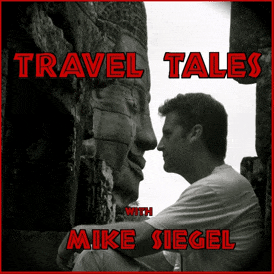 Vital stats:
Format: interviews with an angle (the angle of travel)
Episode duration: ~1h
Frequency: weekly
Did you ever have that moment where you stopped, looked around, and realized that literally all your friends have traveled more than you? Across ages, nationalities and SES categories, my friends share something in common: they have stories about Bulgaria, Japan, Italy, the Philippines, France, Kenya, Finland, Chile, Morocco, Belgium, China, Great Britain, Singapore and other, lesser-known countries that it's too demoralizing even to name. I have stories of precisely dick. That line actually comes from "Trav'lin Man", a blog post I wrote in order to lamenting just how much lost traveling time I now have to make up.
Mike Siegel, coincidentally enough, references the very same song on his podcast Travel Tales [RSS] [iTunes], but he's so far into travel that he uses it as his theme song. You might know Siegel from his appearances on the old Southern California Comedian Podcast Circuit, though I get the sense than he hasn't played the podcast guest role quite as often as some of his colleagues. That, and he didn't have a podcast himself until this past June, so he stuck it out as semi-outsider in podcasting for quite a while. But if waiting to fully join the fray allowed Siegel the opportunity to think carefully over his show's concept, then I deem it time well spent. Rather than launching yet another podcast of freeform comedic yammering, he's opted for a far richer genre I call the "interview with an angle" (IWA).
I know, off the top of my head, two sterling exemplars of the IWA. On one, The Mental Illness Happy Hour, Paul Gilmartin interviews friends and colleagues about their psychological health but winds up touching on a whole range of subjects through that context. On the other, the very show under review today, Mike Siegel interviews friends and colleagues about where they've traveled and where they'd like to travel but winds up touching on a whole range of subjects through that context. Sure, he and his guests go on the occasional digression and they comment on plenty of issues not directly related to travel, but Siegel's focus on that particular (if broad) topic keeps the conversations driven and focused.
The show also scores many a point by having a guest roster made up of more than just other comedians. Though we podcast-listeners know that comics talking to comics have produced much pure conversational joy, I always feel a slightly richer interaction between two people who don't come from exactly the same professional sphere. So while Siegel does indeed elicit seriously entertaining (and useful and informative!) travel tales from the likes of Jackie Kashian [MP3], Graham Ellwood [MP3], and the freakishly well-traveled Dwayne Perkins [MP3], he does just as well with guests whose careers don't revolve around stand-up: writers, producers, filmmakers. He's even got Battleship Pretension host Tyler Smith talking about Mexico, Colombia, American road trips, and how to travel despite having a distaste for most foods.
The whole "if you like x, listen to y" thing being the last place I want to go (as it were) with Podthoughts, I hesitate to say that, if you're interested in the world, you're interested in Travel Tales. But you probably are. Don't sweat it if you haven't heard of a particular episode's guest; that never really matters on well-crafted interview programs anyway. They all come with fascinating memories and observations about Japanese baseball, Spanish gay bars, Indian meditation retreats, the fear of talking to Ice Cube on a flight, the fear of being three women alone in Riyadh, and Holocaust museums. I don't know about you, but I need all the motivating stories I can get.
[Podthinker Colin Marshall also happens to host and produce The Marketplace of Ideas [iTunes], a public radio show and podcast dedicated to in-depth cultural conversation. Please hire him for something.]