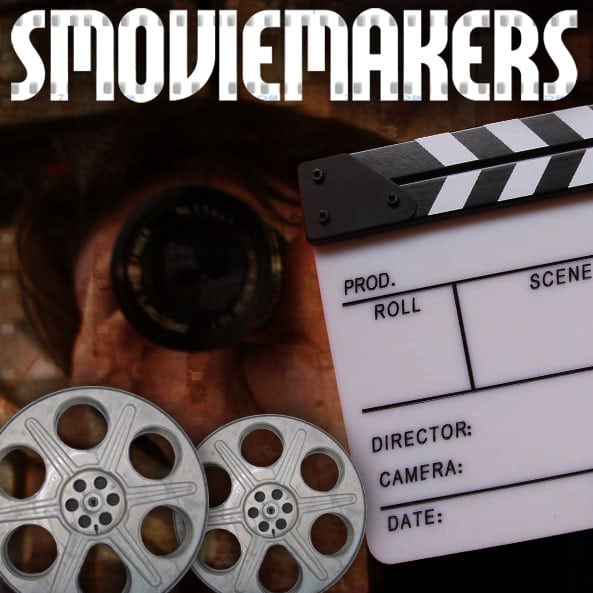 Vital stats:
Format: Kevin Smith interviews the makers of films he likes
Episode duration: 50m-2h30m
Frequency: erratic
Finally, someone has given Richard Kelly a chance to explain himself. Actually, wait a second — he had a chance to explain himself, back on the Donnie Darko DVD commentary track. Or at least he had a chance to explain the movie — and to my great dismay, he did, with a sweaty, near-schizophrenic detail and consistency. But Kelly's appearance on SMoviemakers [RSS] [iTunes] happened years later, after the world had already sneered his follow-up, the chaotically paranoid Southland Tales, into an early grave. Say what you will about the coherence of Kelly's movies; they're something, or at least they aspire to that state. My memories of Donnie Darko remain as hauntingly askew as the film itself, and as for Southland Tales, well, J. Hoberman and Manohla Dargis don't win themselves over. I never would have expected a guy like Kevin Smith to lend Kelly a sympathetic ear, but so he does on the debut episode of this, his filmmaker-on-filmmaker interview podcast. And in a certain maligned-auteur-on-maligned-auteur way, the invitation makes perfect sense.
Whenever I bring up the maligning of Kevin Smith, I ask myself whether I've done my share of that maligning. Alongside many cinephiles of my generation, I thrilled to Clerks and everything it revealed about the potential of micro-budget independent filmmaking in the nineties. But like several other of the subsequent movement's leading lights, Smith has arguably proven damp cinematic powder. Even a picture like Chasing Amy, regarded as one of his strongest efforts, falls victim to both a half-hearted interest in craft and an unpalatably thorough seediness. Smith himself admits, as a born writer and talker, to never finding film a particularly good fit. With the advent of podcasting, which made possible his flagship program SModcast and its countless spin-offs, he may at last have found his medium. SMoviemakers goes up a level by sitting him down with other directors, and ones he admires, thus harnessing his considerable drive as a film fan and his experience (even if he disclaims real skill) as a filmmaker.
This places him well to, say, spend four separate eighty-minute episodes talking to Penny Marshall, discussing her entire career project by project. Not only has he seen, and loved, Big, Awakenings, and A League of Their Own (not to mention the run of Laverne and Shirley) over and over again, he knows exactly what it would have taken to make them. Just as this goes for a grande dame of family films, it goes for a young genre director like Scott Derrickson, with whom smith conducts an almost three-hour two–parter. "Isn't it interesting as fuck?" Smith asks us at the end of part one. And even though I've never watched — and let's face it, may never watch — one of Derrickson's movies, indeed it is. The same goes for the live panel episodes with guests who worked on Valley Girl, The Rocketeer, and The Breakfast Club. Whatever you think of his work, Smith's enthusiasm has always made him likable, and that work gives him the expertise which this show fuses with that most enjoyable part of his public personality.
Yet you may sense a certain arrestedness in the choice of films here. If Smith has retained the winning level of film fervor you'd see in a fourteen-year-old, he may have accomplished it by sticking to the same films he liked as a fourteen-year-old. He tells a representative anecdote before the Breakfast Club conversation about how, immediately after seeing the movie in the theater, he put his name down to rent it at his local video store, months before its Betamax release. Nineteen-eighties teen pictures, budget horror, comic book adaptations, the deliberately cultish, feel-good Hollywood — it's not as if I expect an exhumed Andrei Tarkovsky to jump on the second mic, but damn. It reminds me that I've never quite gotten comfortable with the type of adulthood of which Smith made himself a prototype: married with children (child, in Smith's case), but still deeply invested in Batman (doing a dedicated Batman podcast, in Smith's case). This always struck me as the worst of both worlds — barren fifty-year-olds with worn W.G. Sebald novels in hand being, clearly, My People — but he seems to be having one hell of a good time, who am I to quibble?
One strong sign that Smith's interests may run to a deeper place appears, curiously, in a live SMoviemakers dedicated to a pillar of his moviegoing adolescence: The Adventures of Buckaroo Banzai Across the 8th Dimension. Though he usually speaks with what we might call the common touch — "Get the fuck outta here," goes his most common reply to guests' answers — there he launches into a hyperarticulate panegyric (as star Peter Weller later calls it) to the film's brazen defiance of tradition, genre, and any form of audience expectation. This willingness to drop the viewer into an existing universe and trust them to possess the intelligence to figure it out on their own, he says, is art. Run with that thought, Kevin. And might I suggest that, into this fine showcase for your conversational abilities, you next invite your fellow alumni from the nineties indie boom? Robert Rodriguez, Richard Linklater, Steven Soderbergh, Quentin Tarantino — can an iPod, let alone a stage, even contain that much sheer excitement about movies?
Comment or suggest a podcast on the Podthoughts forum thread
[Podthinker Colin Marshall hosts and produces Notebook on Cities and Culture [iTunes]. Contact him at colinjmarshall at gmail or follow him on Twitter @colinmarshall.]