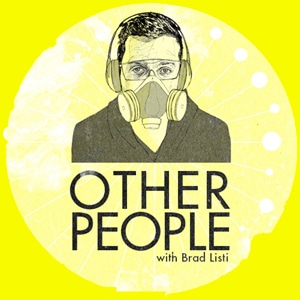 Vital stats:
Format: the literary WTF
Episode duration: 1h-1h30m
Frequency: weekly
Damn, are ever there a lot of novels to read. I get this mixed rush of excitement, gratitude, incredulity, and hopelessness whenever I plug into an outlet of contemporary literary culture. In one hour, I'll hear of dozens of authors and hundreds of books I might want but will never have the lifespan to read. How did this Jenga tower rise? When will it fall? Imagine what a comparable situation in the auto industry: respectable, productive new car companies appear every week; comfortable, well-built new models enter the market every day; lots teem with more vehicles than the entire driving population could reasonably buy and use, let alone fit onto the roads at once; time-tested old cars, some of the finest ever produced, remain abundant and far cheaper than their curiously pricey modern counterparts. Yet automotive design and engineering schools continue pumping out waves of expectant graduates each year, and everyone else seems less and less eager to drive.
From Other People [iTunes] [RSS], a literary version of Marc Maron's WTF, I get vibrations of this same psychodrama. Host Brad Listi, a novelist-interviewer/novelist interviewer to Maron's comedian-interviewer/comedian interviewer, sits down with the very people who write all these worthy recent novels to compare notes about growing up, pulling a writing career together, and physically doing the work, in sessions spiced with various opinions and anxieties. After having heard a sizable chunk of the archive, I can assure you that these episodes all have much of interest to offer: rich stories, sudden laughs, ponder-worthy observations, memorable strategies for living. The show's conversations deliver just what I confidently imagine their participants' actual books do. But where to start listening?
Selecting Other People interviews to download presents the same seemingly insoluble problems and obscure strains of guilt as selecting novels to read. Browsing Listi's 77-strong backlog, I muttered to myself the thinnest of justifications: "Jerry Stahl? [MP3] Seemed interestingly ragged when I saw him on that one panel. Ben Marcus? [MP3] I remember some sort war of words about experimental writing between him and Jonathan Franzen where it looked like he was defending my reading interests, but then I only ever read Franzen's side. Elna Baker? [MP3] That Mormon I heard on The Sound of Young America, and Mormon stuff weirds me out in a way I kind of enjoy. Rex Pickett? [MP3] Seems like we all know strangely little about that guy, considering he wrote Sideways. Vanessa Veselka? [MP3] Someone had me write about her novel once. Heidi Julavits? [MP3] Is that the same as Vendela Vida?" (And of course I grabbed all the ones with people I've interviewed myself — Reality Hunger manifesto assembler David Shields [MP3], literary blogger Maud Newton [MP3] — as every interviewer denies doing.)
For the most part, I threw up my hands and chose which Other Peoples to listen to the way I choose which books to read or, frankly, the way I choose pretty much everything: socially. In a world whose sheer number of options renders all of them effectively unevaluatable, picking whatever you happen to know people involved with or want to become like the people involved with at least lifts a burden. Sure, this guarantees that the simple meritocracy for which we clamored as sixteen-year-olds will never come, but we should've abandoned that idea long ago. Listi and his guests do seem aware, on some level, of this condition. They also directly acknowledge the bizarre structure of the literary fiction market now and again, though usually in passing. In one of his WTF-style pre-interview monologues, a shaken Listi describes the scene at the annual Association of Writers and Writing Programs conference as "Darwinian." I've gone to those; I know what he means. The chat there, while all kinds of stimulating, tends to float on a bitter current of spite. Let it seep to the surface, and it destroys you.
Listi, to his credit, lets little of this spite seep into his interviews. I come away from Other People remembering mostly what has the least direct relevance to the half-masochistic practice, performed with grim resignation and without apparent incentive, of writing novels: the roach-tainted cheese toast of Newton's childhood; the questionable warning the college-bound Baker received from her mother about NYU's roving gangs of lesbians; Veselka's having emerged from the womb of Nick News W5's Linda Ellerbee; Marcus' dreams of college waterskiing. "Introduced" to many of these writers by Listi's program, I now feel like getting to know them better, and if that means getting their personalities mediated through some fictional narrative, so be it. Maybe it just works this way now: you "meet" someone on a show like Other People, and you can, if you like, get further "acquainted" by reading their books. I would bang out a line here about how the work ought to stand for itself, but I think we're all feeling a little tired these days.
Comment or suggest a podcast on the Podthoughts forum thread
[Podthinker Colin Marshall hosts and produces Notebook on Cities and Culture [iTunes]. Contact him at colinjmarshall at gmail or follow him on Twitter @colinmarshall.]