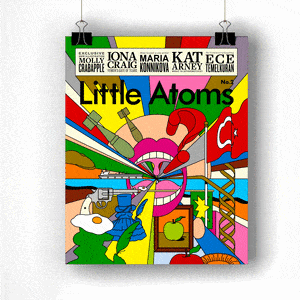 Vital stats:
Format: interviews about ideas, science, rationality, and senses of place
Episode duration: 25m-1h30m
Frequency: sometimes weekly, sometimes biweekly
Little Atoms [RSS] [iTunes] used to describe itself as a conversation about "conspiracy theories, cosmology, religion, the new age, human rights, and the state of the left." Surely you can sense where that list hits a sour note. Conspiracy theories, cosmology, religion, and the new age fall into the wheelhouse of any show about truth and falsity. Podcasting, the medium that brought us the slightly wearying procession of Skeptoid, Skepticality, Skeptiko, and so on (you ultimately end up at Skepchick), has more than welcomed this sort of thing. Human rights, as a subject, can receive interesting or uninteresting treatment depending upon the context. But the very last thing I hope to hear when I hit play on my iPod is an earnest discussion of the state of the left. And I have no particular love for the right, so perhaps this illustrates the left's whole problem. Implying that the left has a natural place in the grand separation of fact and delusion brings back to my mouth the bitter disappointment I tasted after momentarily believing the hype about leftism as the politics of the thinking man. We realize later in life that, alas, no -ism truly permits the thinking man.
Hence, I imagine, Little Atoms' modified current opener, which more broadly but much more appealingly promises a show "about ideas and culture, with an emphasis on ideas of the Enlightenment." You could describe this as a program about science and rationality, if you concentrate on certain episodes: Ben Goldacre on evidence-based medicine [MP3], Christopher Hitchens on atheism [MP3], Lisa Randall on cosmology [MP3], James Randi on pseudoscience [MP3], Mark Henderson on "why science matters" [MP3]. But in my experience, podcasts exclusively concerned with that can turn oddly pious; you can only listen to so much veneration of the scientific enterprise before beginning to feel you've lost its context. The pursuit of the truth, though one of the more robust single justifications one can muster for one's work, strikes me as not quite a wide enough slice of the human experience. I would gladly take the side of logic, reason, and reality, but man, some of the guys on that team dress like real schlubs.
This program, then, gets even more fascinating when not directly discussing science- or rationality-oriented topics. Its conversation with Ian McEwan [MP3], for instance, whose last novel starred a "fat bastard" of a theoretical physicist, brings a funny kind of cultural skepticism to bear on scientists themselves. Its conversation with Iain Sinclair [MP3] approaches one of the show's pet topics, the built environment, through the life experiences of a man who has written so personally about it for so long. And to get a sense of when things really hit their stride, listen to the three appearances of writer, television host, and This American Life regular Jon Ronson: on agnostics who turn Christian [MP3], on the diagnosing of psychopaths [MP3], and on his career [MP3]. Widely interested, slyly humorous, culturally high-profile, ever sensitive to bullshit, British: Ronson embodies the kind of sensibility that resonates well with Little Atoms' own.
No pun intended with that "resonate," for those who already know that the show originates as a broadcast from London's freeform radio station Resonance 104.4 FM. This location and its relative lack of restriction places Little Atoms well to showcase a certain species of celebrity, or perhaps "public thinker," or possibly "public communicator," which has never quite taken root here in the States. As a regular guest of Ira Glass, Ronson has actually made deeper inroads into America than most of them. I speak of men, usually men of letters, who move freely from subject to subject, medium to medium, writing, speaking, and generally producing on whatever subject strikes them as vital. This show first intrigued me by offering an interview with Chris Petit [MP3], the man who directed Radio On back in 1979. He's since written novels of various types and crafted films and television programs of various forms, even collaborating at one point with Sinclair. It makes sense that they'd get together; since the both men — as well as this program that has hosted the both of them — do work undergirded by a sense of place.
Of course, the strongest sense of place comes possessed by one of Little Atoms' most frequent guests, a certain Jonathan Meades. A food and architecture writer as well as a novelist, broadcaster, inveterate sunglass-wearer, and what the U.K. calls a "presenter," Meades has turned up many times, discussing things like building in Britain [MP3], his own semi-comedic televisual manner [MP3], and the possibiliy of urban renaissance [MP3]. Though by no means an Anglophile, I've long burned with jealousy over Britain's ability to accommodate a reasonable number of well-known figures like Meades. They seem simply to fill the subject-independent role of "interesting guy" — of, in other words, the thinking man, and as Meades explains on one of these interviews, he creates what he himself would like to read and watch. Clive James, a prime exemplar of this sort of vocation, has said that his sort of celebrity doesn't export well because Americans like to know exactly what's in the can when they see the label. And even Meades, when he happens to come up on Little Atoms broadcasts not actually involving him, has been described as relegated to the "BBC Four ghetto." But having glanced at the BBC Four schedule, I daresay I'd move into those tower blocks at a moment's notice.
Comment or suggest a podcast on the Podthoughts forum thread
[Podthinker Colin Marshall hosts and produces Notebook on Cities and Culture [iTunes]. Contact him at colinjmarshall at gmail or follow him on Twitter @colinmarshall.]