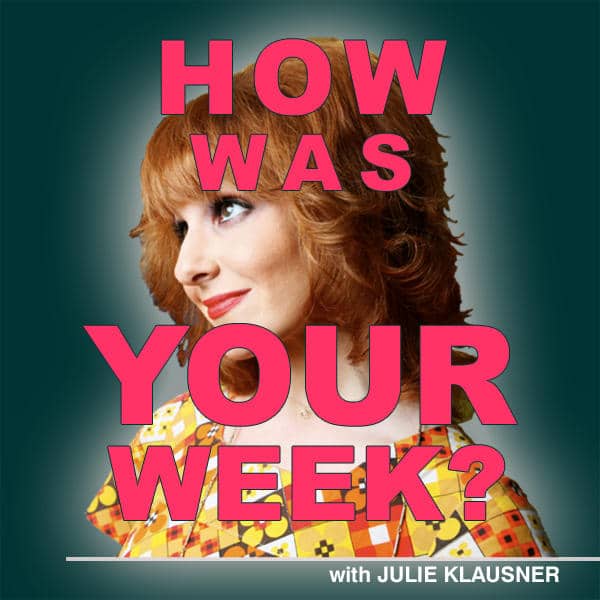 Vital stats:
Format: Julie Klausner talking to comedians and other people she knows, bracketed by Julie Klausner talking about her week
Episode duration: 40m-1h30m
Frequency: weekly
Besides the red hair and gay fanbase, do I have any reason to think of Julie Klausner as "the good Kathy Griffin?" Undoubtedly not, but I can't force the label out of my mind. Among their countless points of dissimilarity, Griffin lives in Los Angeles, while Klausner remains insistently New York-based. I say "insistently" because of how many comedy people seem to glide inexorably toward Los Angeles these days, as if on rails. Even if you actually do it out of pure inertia, staying in New York always strikes me a choice — as a stand, even. Oh, and Klausner does this acclaimed podcast called How Was Your Week? [RSS] [iTunes], which Griffin doesn't. That's a big difference.
Listen to How Was Your Week?, and you will hear all about Klausner's insistently New York life. Sometimes her weeks involve suffering poor customer service at the hands of a sneering, transgendered Uniqlo employee; sometimes they simply culminate in bed, ice cream, and eleven episodes of something. She offers these details in the solo segments that come at the beginning and end of each episode, which usually bracket an interview. It plays a little like what Marc Maron does on WTF, leading into the day's conversation with a life's vicissitudes-inspired improvised monologue, but Klausner gives you more monologue and less conversation. Each installment showcases Klausner the speaker roughly one half of time, and Klausner the interviewer in the other half.
On some days, though, it feels like Klausner the speaker stretches out to overtake most of the runtime. This will delight some and make others wince, since I get an audience-polarizing vibe from the persona she uses alone at the mic, which heavily involves the comedic technique of spinning out a sentence to just a few words too many, or clarifying just a little too much. She might drop a reference to some oft-referenced element of pop culture, for instance, and follow it up with a singsong "Ref-erennnnce!" Or she'll describe her attempt to end an e-mail argument with a nutty enraged stranger and then add, "You know what didn't work? That." Or she'll mention her "bodarino — because that's what I'm calling my body now." I imagine listeners, depending upon their disposition, either eating this up or fasting it forward, though Klausner's tendency to follow all oratorical lines to their fizzling end does produce moments of what I would call brilliance. That e-mail argument had to do with women who she feels manically affect elements of youthful sloppiness: purple nail polish, Smartie necklaces, rompers, in which Klausner wonders aloud how you're supposed to urinate. "Are you naked on the toilet?" she asks.
Rompers actually provide some of the most socially relevant subject matter covered in these stretches, when Klausner typically sticks near-exclusively to the aggressively inconsequential: upper-arm flab, Nancy Grace's appearance on Dancing with the Stars, Lancelot Link: Secret Chimp, Michael Keaton. Early on, I felt like this left me with little to show for my time spent listening, but the more episodes of How Was Your Week? I hear, the more I come to see it as, consciously or unconsciously performed, an act of balance. When Klausner brings on her guests, she rarely wastes time getting right into the substantial stuff. It doesn't take long for her talk with David Rakoff [MP3] to turn to cancer, AIDS, and Jewish cakes; nor can she and Patton Oswalt [MP3] resist launching into fascinating discussion of the psychological mechanics of writing. And by now I've heard so many thoughtful chats when Tom Scharpling [MP3] guests on podcasts that I find myself on the verge of rolling up my sleeves and plowing into all the Best Show lore I assume I must master before listening to it.
As you can see, Klausner's New-Yorkiness also results in a somewhat different guest list than those of all the Los Angeles-based comedians-talking-to-people podcasts. Sure, sometimes she records in Los Angeles and sometimes Los Angeles people come to her in New York, but How Was Your Week? remains the only show I know of equipped to offer Ira Glass and his wife [MP3] and Sandra Bernhard [MP3] within four months of one another. And I realize I must now sound like one of those insufferable coastals who assumes that Los Angeles and New York are the only places to live in the United States, but hey, if you can show me another American city that inspires such fear and loathing, be my guest.
[Podthinker Colin Marshall hosts and produces Notebook on Cities and Culture [iTunes]. Contact him at colinjmarshall at gmail or follow him on Twitter @colinmarshall.]