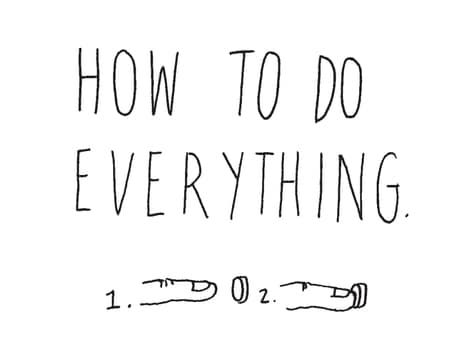 Vital stats:
Format: expert, semi-expert, etc. consultation about all matters doing-related
Episode duration: 12-20 m
Frequency: weekly
Every episode of How to Do Everything [RSS] [iTunes] runs within the range of 12 and 20 minutes. In the studio, its hosts have an almost unnaturally snappy, overlapping- and interruption-free way of bantering with each other — yes, legitimately bantering. Outside of the studio, they go around and produce actual field pieces. The show sticks unfailingly to short segments that allow no possibility for extended tangents. Neatly edited-in music cues keep the pace up. In short, what kind of podcast is this?
I initially picked up the same vibe of suspicious professionalism from hosts Ian Chillag and Mike Danforth that I picked up from The Dinner Party Download's Rico Gagliano and Brendan Francis Newnam. That show — though it's really more of a segment itself — airs on "real" public radio, but I don't think How to Do Everything does… yet. The plot thickened when I realized that every e-mail address I heard announced on the show ends in "npr.org," so I bet the hosts have the connections to do it. Why, I even saw Peter Sagal plug the show on his Twitter feed. "@waitwait producers Chillag and Danforth," eh? That means these guys… these guys are insiders!
This goes some way toward explaining why, according to my wild-@$$ guess, this show works like it does: Chillag and Danforth hold the keys to the cabinets. This must make it easier for them to produce a program where they regularly consult a public radio-grade little black book of experts, semi-experts, and all but irrelevant quirksters who happen to have a lot of availability — everyone from Padma Lakshmi to an eccentric spider dude. Our intrepid hosts either ring these people up with their gleaming public radio telehybrid boxes or check out a hefty public radio field production package and record on their turf, putting the questions of the day to them: How to I stop a charging rhino? How do I tell which subway door will open? How do I tame a beard itch? How do I walk across America? What does "goodbye" mean? What is hockey?
The show's answers, taken as a whole, deliver one part genuinely useful information, one part genuine but practically useless information, and one part pure yuks. I would have expected Chillag and Danforth to use the answering-questions framework as a point of departure for conversation, but they don't really allow themselves enough time in the show to get into a conversation. But if their designs for the podcast include turning it into a widely distributed public radio segment, maybe they've got the right idea; it already sounds, if relatively tame in sensibility by podcast standards, dangerously irreverent by the standards of the average public radio program director.
While I wouldn't quite say "Go listen to this podcast, it sounds really professional," I will say that, whenever I listen to a regular public radio program, I constantly think it could use some of the spirit of podcasting, and whenever I listen to a podcast-y podcast, I constantly think it could use some of the spirit of public radio. So I guess my question to Chillag and Danforth goes as follows: how do I combine the best worlds into one production? I've been knocking my head against that question without Padma Lakshmi's advice for far too long.
[Podthinker Colin Marshall also happens to host and produce The Marketplace of Ideas [iTunes], a public radio show and podcast dedicated to in-depth cultural conversation. Please hire him for something.]