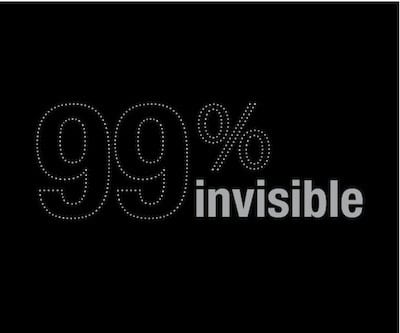 Vital stats:
Format: brief pieces on design and architectural phenomena
Duration: 4m30s
Frequency: weekly, or so it appears
Archive available on iTunes: all
As unsuitable as design and architecture would seem as podcast subjects, I can't get enough shows about 'em. Public radio super-producer Roman Mars, he of Snap Judgment and REMIX Radio, has a new one out called 99% Invisible [RSS] [iTunes]. It's not bad! I wouldn't normally cast the harsh stare of the Podthinking eye on month-old podcasts, but this one's generated so much buzz that it practically commands attention. Either downloaders really like architecture and design or they really like Roman Mars — or both, in which case, lucky for him.
So far, Mars appears to work under a pretty wide mandate on the design-architecture axes. He's done shows about toothbrushes, space travel, the TransAmerica building, and, my personal favorite, city flags. The show's title, as I interpret it, refers to the staggeringly countless man-hours of design work underlying the built environment. This goes for everything from the cityscapes we pass through every day to the humble aforementioned toothbrushes, which we should really try to use every Monday, Wednesday, and Friday, at least. It's the sort of stuff Donald Norman wrote about in books like The Design of Everyday Things. Overturn the log of life is worthwhile, fascinating work: do it and you get all kinds of colorful, squirmy knowledge bugs.
Give it some time, and the show could well become design/architecture's Radio Lab. Mars uses a similarly intricate aesthetic, mixing thematically appropriate music with interpretive sound effects and cutting and pasting a whole bunch of speech on top of it. Though I can already admire the effort and craftsmanship behind this production sensibility, something about it seems not quite there. I'm somehow both pleased and irked by the busyness and repetitiveness that afflicts the program. That's not to say that 99% Invisible makes any unusually bad choices in this regard; this bothersome fragmentation, alas, poisons a lot of what I hear on public radio these days.
What's more of a problem is how each episode ends almost before it begins. Every time I listen to an episode, I start it up, and, four minutes and thirty seconds later, think, "What, are you kidding me?" The interestingness is certainly there — you could teach an entire graduate course on any one episode's topic — but the depth isn't. To Mars' credit, he pushes what he has to the absolute limit, drilling as deep as one possibly can given less time than the average commercial break, but it's a Sisyphean task. There's something to be said for compression, for providing ultra-polished gems to be quickly consumed by a busy audience — but not that much. Just make it ten times as long, and we'll be hearing the next great thing in public radio.
[Podthinker Colin Marshall also happens to be the host and producer of public radio's The Marketplace of Ideas [iTunes], the blogger of The War on Mediocrity and the writer of The Ubuweb Experimental Video Project.]