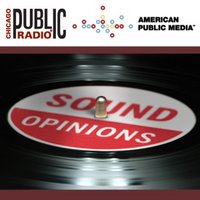 Freelance journalist Ian Brill offers another quick take on a popular podcast. – Jesse
FM radio, once the home of the personality DJ, is now a wasteland. MTV has all but forgotten what its first initial stands for. MySpace is one of the few places to find new music, but there you'll find nothing but self-promotion. There seem to be few places that brings audiences new music and put that music in any kind of context. There is, however, one beacon of harmonic hope ,and it comes from a city with a great musical heritage.
Sound Opinions broadcasts from WBEZ Chicago, the public radio powerhouse that produces This American Life. The show used to be found on commercial radio, and it still provides archival material from that time, but since moving to public radio last year the podcasting service has greatly improved. Shows are posted only a day or two after their original broadcast and are easily available on iTunes. The website includes helpful notes accompanying each episode.
The show mirrors the classic Siskel & Ebert approach to criticism, right down to the newspapers the two hosts work for. Chicago Sun-Times critic Jim DeRogatis can be sure to champion rock 'n' roll tinged with psychedelic or otherwise intellectual elements, such as The Flaming Lips or Wire. The best glimpse into DeRogatis's taste would be his book Turn on Your Mind: Four Decades of Great Psychedelic Music. While DeRogatis can be counted on to enthusiastically expound upon the merits of personal favorites, Chicago Tribune critic Greg Kot tastes proves to be far more eclectic in the music he showcases. In past shows Kot has extolled the virtues of Rock en Espanol and soul music legend Mavis Staples.
While the hosts may have their favorites Sound Opinions covers a wide range of styles. Each show usually includes about two reviews. The discussions of albums such as Paul McCartney's Memory Almost Full and Wilco's Sky Blue Sky (Kot has written a book on Wilco) are intelligent, passionate and informative. It's rare to hear popular music engaged with such trenchancy. Because the hosts look for music that is worthy of discussion the show will often spotlight lesser known artists making music that is in someway smart and/or complex. Recent guests on the show include songwriter/producer Jon Brion, known for an improvisational approach to performance that has garnered him a cult following in his home of Los Angeles. Another guest on the show, the experimental group Parts & Labor create music so challenging I wonder what public radio listeners must think when they hear these sounds coming out of their car radio.
It's such a relief to hear a professional radio show pay so much attention to new music. Sound Opinions doesn't see artists and songs as "units" that need to be sold as TV commercials or ringtones. For the people who want more out of the music industry this show is there to help them.