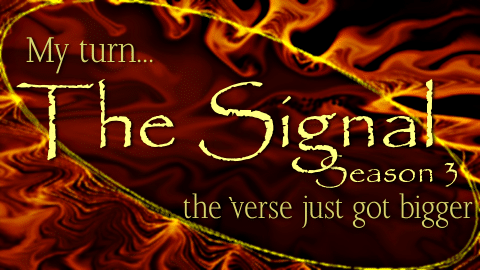 Since we spent time last week looking at a Doctor Who podcast, where the fandom has over four decades to mull over it, let's look at a podcast dedicated to a show with far less material to work with but remain just as passionate. The Signal, hosted by Les Howard and Kari Haley, deals with all things pertaining to show Firefly and the film Serenity. The show lasted one season in 2002 but being created by the man behind Buffy the Vampire Slayer, Joss Whedon, it was guaranteed a healthy fan base. They managed to continue the show in 2005 with the film Serenity, although it didn't too well at the box office (I remember when the film came out and it seemed most Firefly fans saw it in free screenings before the official release). As much as I enjoyed the show and film I finished the entire franchise in a week. What more could this podcast be discussing in late 2007?
Much of Firefly seems to be about expanding the world of these characters, commonly known as The 'Verse. Role playing games get a lot of attention. I understood about 5% of the terminology the reviewers of these games used but I could tell they were informative and well researched. Fan fiction is another tool for Firefly fans to remain in The 'Verse. I'm glad to say that the audio dramas featured on The Signal are a lot better than what I heard on Time Tales. The writing, foley work and acting all come together on these pieces and make for fairly entertaining five to ten minute segments. The Sept. 26th episode featured a private eye story that, while maybe a bit Mary Sue-ish, had all the twists and gratuitous sex you want out of a noir story.
The entire show actually sounds very professional in the way different segments are coordinated and introduced. I assume that the hosts had backgrounds in radio work but maybe not as on-air talent. I'll be honest, Howard and Haley sound like…well, they sound like people who have watched a lot of Joss Whedon shows. They say mildly clever and cutesy things to each other and then sound tremendously satisfied with themselves while saying it. It reminded me of why I found the character of Xander on Buffy so annoying.
Thankfully when Howard and Haley are interviewing someone the affectations are thrown away and an actual conversation starts. The interview with sci-fi writer PJ Haarsma about his work with Nathan Fillion and Kids Need to Read was very enjoyable and illustrated a point about Firefly fans that I was happily surprised by. I expected a lot of moaning and groaning about short-sighted television executives and fickle American audiences. Instead I was glad to hear how many Firefly fans took their passion about a sci-fi series and turned it into real charity work. Many of these groups take it upon themselves to raise money for groups such as the one above or Equality Now. Fandom has made a lot of people shut out the rest of the world. Many Firefly do the opposite and try to make the rest of the world a better place and it's good to know those groups have a hub like The Signal to make things go easier.