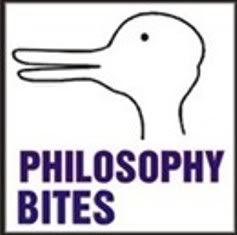 Scholars have labored endlessly over the works of philosophers such as Plato, Kirkegaard and Hobbes. Now those scholars must compress their findings into about eleven minutes for the podcast Philosophy Bites (iTunes link).
Living up to its name the show features bite sized interviews with professors and authors about various philosophers and philosophies. Hosts David Edmonds and Nigel Warburton start off with the most basic questions as to introduce that week's topic. Listeners get a straight forward take on a particular idea that is often communicated as a vague concept. Near the end of certain interviews the questions do get tend to be a bit more challenging and insightful. Richard Norman, author of On Humanism, takes these interesting queries on how the behavior of celebrity atheists Richard Dawkins and Christopher Hitchens can both help and hurt how humanism is perceived by the greater world. The show still covers their topics in the most general sense but I'm glad to know there is an acknowledgment of the truly complicated thinking behind these subjects.
The best use of this podcast is if you're a student and you are having trouble with a confusing philosophy class. Philosophy Bites gives you the most basic but still vital take on these very big, very daunting ideas about human culture.
---
A bite sized show deserves a bite sized review. This gives me a little time to mention that I'm setting up a Bay Area MaximumFun meet-up March 5th. We'll meet 7 p.m. at the Edinburgh Castle. At 8 p.m., without even having to leave the place, we'll see Mary Van Note's Comedy Darling show featuring MaximumFun favorite Brent Weinbach! Be there, laugh and meet some people who are also into things that are awesome.