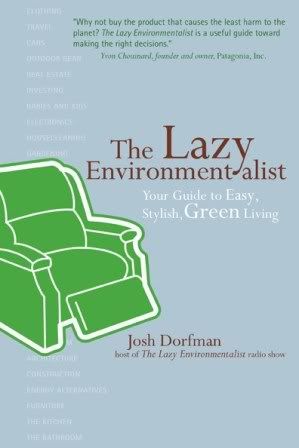 Josh Dorfman, the host of The Lazy Environmentalist (iTunes link) radio show and author of the book of the same name, is a different kind of voice in the Green Movement. There are no prophecies of environmental disasters meant to scare you into action. Dorfman says that he is wary of "doom and gloom" in environmental messages. His show radiates this cheerful, enthusiastic attitude towards changing the world. He instills in listeners a hopeful sense the world can change and that it's not even that hard.
The podcast features short segments of Dorfman's show on Sirius Satellite Radio. They run from five to twenty minutes long. Some shows will feature Dorfman listing the greenest options for a certain activity, such as which are the most environmentally friendly airlines to choose. Others will have Dorfman expounding on a certain subject, such as putting forth his thesis that we can indeed "shop our way to sustainability." Their nice little tidbits that you can start your day with or use as a quick reference, say when you want to know how to get quality skin care while saving the world.
I worry that maybe the tips aren't enough. There is the idea that we can shop our way to sustainability and indeed, consumerism can change the world. I worry (and yes, even with Dorfman's happy tone I'm still going to be filled with worries) that just tweaking our current way of life isn't enough. Just replacing light bulbs or picking an airline whose planes don't use as much fuel doesn't feel like enough change is happening. The actual infrastructure based around burning through the Earth's resources is still there.
Perhaps hoping for a revolution is too pie-in-the-sky to be effective. Dorfman is being realistic. He does say that government regulation is important but he admits that we are still going to be living in this particular marketplace. He's most likely right that there won't be a major overhaul in first world life so let's try to change what we have now. The call to change the current economy we have now can even have wide ranging benefits that go beyond the issues of the environment. I liked the show about "Green Collar Jobs" that featured an interview with Van Jones of Ella Baker Center for Human Rights. Jones talked about creating new work opportunities for underprivileged youth by finding them jobs such as installing solar panels. The show gave a more expansive look of why retooling the economy for a sustainable future is so important.