"Edgy" and "NPR" aren't terms you'd normally hear in the same sentence. "Edgy" and "alt.NPR" aren't terms you're going to hear bandied around together either, but NPR's podcast-only programming is a step in the right direction: the one leading to a transfusion of vital new lifeblood into public radio's rigid arteries, clogged over decades by conservatism of programming — ironic for an institution so tied in the public consciousness to liberalism — and a self-reinforcing feedback loop of audience expectations. (NOTE: The opinions expressed in Podthoughts are not necessarily those of Maximumfun.org, but I do know that Jesse's no more thrilled by A Prairie Home Companion than I am.)
We're thinking Podthoughts about three alt.NPR podcasts this week. First,
B-Side Radio
[
iTunes link
]. The key to this show is that
This American Life
is side A. Modulo a nuance or two, the programs share a format: a few "real people," sometimes the producers of the show itself, share stories, each related to a theme. The most obvious differences between
B-Side
and Ira Glass' juggernaut is that
B-Side
comes out monthly rather than weekly, contains (on the average) more stories per minute, and covers topics of slightly less consequence. That's not necessarily a bad thing —
TAL
's production tends to inflate the importance of its stories, which makes me cringe — but one must be in a certain state of mind to appreciate a cop who impersonates Fat Elvis on the side [
stream
], Mexican teen moms [
stream
] or video game nerds [
stream
]. I'd be lying if I said I wasn't puzzled as to why
B-Side
appears to have no higher aspiration than to be the junior varsity version of public radio's hippest, youngest show — average listener age:
a spry 47
! — but that modest ambition is more than enough to satisfy public radio addicts like you and me.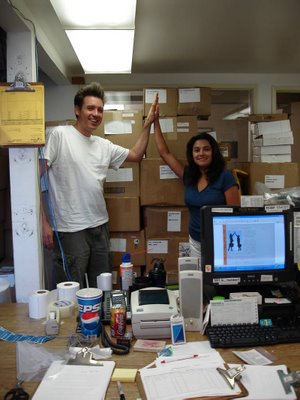 What Would Rob Do?
[
iTunes link
] is a biweekly examination of "life's most trying dilemmas" from
Rob Sachs
, a producer and director on
Tell Me More
. It's a slightly less focused affair than it sounds: the dilemmas in the purview of Rob's assistance include staining your shirt (useful!), clogging a friend's toilet (useful!), getting trapped in an elevator (still pretty useful!), and, uh, auctioneering. A better title might be
Who Would Rob Consult?
: since his own knowledge seems unsuited to address any of these situations, Rob interviews experts to get the answers, as when he rings up
Michael "Let's Get Ready to Rumble!" Buffer
for advice on coming up with a catchphrase. This reduces Rob's own role to that of a goofy middleman, peppering his delivery of the information with an occasional corny remark, but he gets better at it every time. His conversations with whichever co-host happens to be around (sometimes
Jordan, Jesse, Go! guest
Mike Pesca) used to sound uncomfortably stiff and scripted, but they've become much more delightfully off-the-cuff with time.
Brini Maxwell
strikes me as very much a Maximum Fun sort of homemaking guru, in that she's
(a)
satirical, but somehow simultaneously sincere and
(b)
a man in drag. The character gained traction on Manhattan public access television, segments of which program are available as a
a vidcast
, and then spent a couple years on the Style Network. Her current podcast project, alt.NPR's
Brini Maxwell's Hints for Gracious Living
[
iTunes link
], provides about five weekly minutes on the finer points of, most recently, making stew, making cheese, making friends who eat brunch, and making furniture (or at least talking to those who do). Unlike most forms of entertainment involving drag, Brini's show is both practical and not loaded with bad disco. Though the program's content runs thin at times, Brini's imitation of the late-50s through early-70s lifestyle aesthetic hits dead-on.
Stay tuned — more coverage of alt.NPR podcasts is on the way in a future installment of Podthoughts.
[Direct all correspondence to colinjmarshall at gmail. Podthoughts discussion thread available here.]