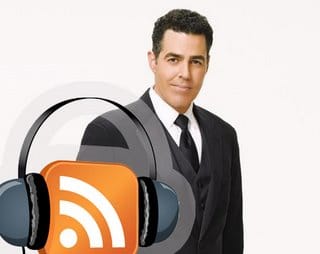 Radio drama first sparked your Podthinker's interest in audio entertainment, but it was the mighty bellows that is Adam Carolla who, throughout your Podthinker's middle and high school years, grew it into a raging, all-consuming blaze. This was back when, along with all of media's Dr. Drew Pinsky, he put in two hours a weeknight forcefully, cogently making points about sex, drugs and traffic laws on Loveline. What a tragedy it was when he left the program in 2005 to helm KLSX's morning show. The loss, however, looks on track to be more than compensated; ex-Loveline fans are getting their reparations, and then some, in the form of Carolla's new podcast [iTunes link].
Cue the departure of a significant chunk of this column's readership — at least, the ones who didn't bolt upon reading the subject line. Thanks, no doubt, to projects of dubious reputation like The Man Show and Crank Yankers — not to mention occupying the time slot vacated by Howard Stern — Carolla seems to have gained popular perception as a misogynistic, illiterate vulgarian. While he readily admits to enjoying himself a good fart and never having properly learned to read — L.A. Unified School District, you see — he's certainly nowhere near the misogyny league of even, say, an Andrew Dice Clay. What vulgarity he enjoys somehow isn't the pointless, wheel-spinning vulgarity of the morning zoo frontman, and any persistent difficulty with the printed word hasn't harmed his overall perspicacity and formidable command of the spoken word. The Adam Carolla podcast strips away the all commercials, market research and program director-imposed detritus that's clouded the man's genuine self for so long, revealing him to be what dedicated Loveline listeners always knew and insisted he was.
Almost immediately after KLSX, citing the toughness of things all over, converted to a cheaper format and thus 86ed all its talk show hosts, Carolla got his technologically savvy buddies Mike Cioffi and Donny "The Weez" (an oft-dropped name from the Loveline days) together and began podcasting. After a brilliant opening rant about the state of the radio, he brought on guests to chat with: Dr. Drew, his co-hosts from KLSX [MP3], that sort of thing. Soon, the podcast was frequented by a surprisingly wide range of Carolla's friends and acquantances, like David Alan Grier [MP3], Star Trek's George Takei [MP3] and a tipsy Seth MacFarlane [MP3].
The format is blessedly spare: Carolla and his guest talk. That's it. (Sometimes The Weez interjects.) The podcast provides pure, unadulterated conversation, uninterrupted by spot blocks, resets and time checks. While Carolla still has plenty to say, and say hilariously, about old standby subjects like the grotesque mores of the entertainment business and the utter mental desolation of childhood, adolescence and adulthood in the San Fernando Valley, the most pleasing part of the package is that, unencumbered by the need to periodically do bits or allay the sexual distresses of 15-year-old snowboarders from Mission Viejo, he turns out to be an excellent interlocutor.
As someone who's devoted a large band of his life to studying and perfecting the art of broadcast conversation, your Podthinker would submit that Carolla is as skilled at — perhaps more skilled at — connecting with his guests as a real human being than the most respected interviewers working today. It's on the strength of this wit and humanness that the podcast, barely two months old, has risen to the top tier of your Podthinker's listening priorities. First thing each weekday morning, it's a shot of Carolla, straight up. Welcome back, Ace Man, to the land of the living.
Vital stats:
Format: news variety
Running since: February 2009
Duration: ~1h
Frequency: weekdaily
Archive available on iTunes: all but first two
[Podthinker Colin Marshall has been certified as one of the nation's top five Germany or Florida players. Challenge him at colinjmarshall at gmail. Discuss Podthoughts on the forum here or submit your own podcast for the next by-Max-Funsters column here.]